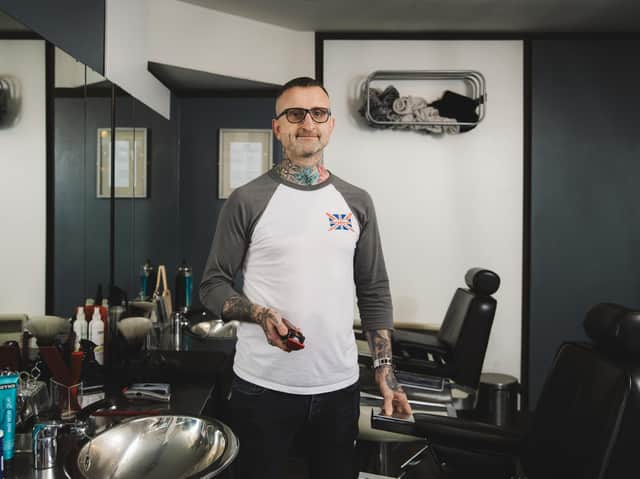 James Shane in his barber shop.
Independent Domestic Abuse Services (IDAS) is working with James Shane, who owns Shane's barbers on Castle Road, and calling on other barbers in the area to get involved in the campaign.
James experienced sexual abuse as a child after being groomed but wasn't believed when he sought help.
It then took him over 30 years to look for help again and was referred to IDAS by the police for emotional and practical support.
James said: "I've felt so much better. It took me 43 years to come out after what happened and IDAS have been brilliant.
"People don't know what they actually do because they support the victims and their families. They've been and talked to my wife.
"The staff are so understanding, they make you feel at home straight away with a warm welcome and make you at ease so you can open up to them, they're like real people."
James now wants to help other people to get the support they need and gain confidence in speaking out.
As a barber of 22 years he has seen people open up in the barber's chair and wants to encourage his peers to attend training sessions from IDAS so they feel able to signpost clients to the right help.
He continued: "This is a way to pay back IDAS for what they've done for me.
"We get a lot of people sat in the chair talking to us but they don't take it any further.
"[Men] don't always talk and we need to talk.
"The training will give barbers confidence to point them in the right direction."
IDAS will be running two training sessions in Scarborough and York and ask anyone interested in attending to contact Glen Dhliwayo on [email protected]
The training will give information about the services IDAS offer and how to respond if someone discloses abuse.
Carmel Offord of IDAS said: "We know that sexual abuse can have a profound impact, affecting people's mental health and their relationships.
"It can be difficult to know where to go for support if you have been affected.
"Barbers are in a great position to help us raise awareness of the support available to men who have been affected by sexual abuse.
"Many have great relationships with their clients, and we hope that displaying our posters might spark conversations and encourage men to seek support."
IDAS have independent sexual violence advisors who are trained to provide emotional and practical support to anyone affected by sexual violence or abuse, whether recent or historic.
The service is available whether someone wants to report to the police or not.
Anyone affected can call the helpline on 03000 110 110 or visit the website www.idas.org.uk