Commemorative 'Buddy Bench' installed at Friarage Primary School is special tribute to popular Jessica
Children at a Scarborough school will be able to remember a special friend who sadly passed away, thanks to a commemorative 'Buddy Bench'.
Thursday, 17th June 2021, 12:47 pm
Popular Friarage School pupil Jessica Rogers was just nine when she lost her life to a brain tumour earlier this year.
In her memory, Beyond Housing funded a brightly coloured 'Buddy Bench' and planter, where children can sit if they ever feel sad, worried or lonely, showing teachers and other children they are in need of a 'buddy'.
Jessica's mum, Kelly Rogers, dad Alan Rogers, and sister Daisy, seven, who are Beyond Housing customers, joined best friend Holly Fisher and the school's headteacher to officially cut the pink ribbon on the bench. Daisy carried a framed photograph of her sister throughout the event.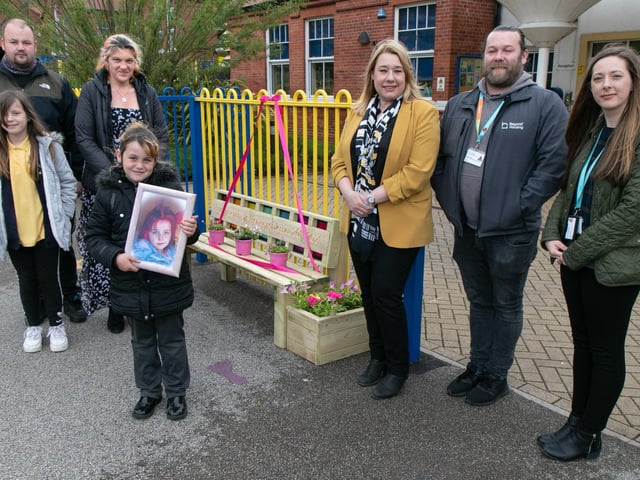 Back, parents Alan and Kelly Rogers, Friarage School headteacher Cheryl Cappleman, Beyond Housing Communities Advisor John Bateman and Community Connector Laura Young; front, Jessica's school friend Holly Fisher with Jessica's sister Daisy Rogers, holding a photo of Jessica. (Photo: Kevin Allen)
Kelly said the family was "really pleased" such a lovely, bright memorial to Jessica has been placed in the school.
"We chose pink flowers because that was her favourite colour," she added.
The wooden bench features a rainbow perspex design and has been carved with the words 'Buddy Bench In Memory of Jessica, 2011-2021'.
One end of the bench has a matching wooden planter attached to it containing bright pink flowers and three additional pink flowerpots.
Headteacher Cheryl Cappleman said: "This buddy bench is a wonderful tribute for Jessica, and it's particularly significant because she was such a kind little girl; and the bench will be there for our children to share and make friends on in years to come."
Earlier this year, generous pupils and staff at the school raised £800 for Brain Tumour Research by holding a Wear a Hat Day event in memory of Jessica.
Laura Young, Beyond Housing Community Connector, said: "Jessica was a wonderful, kind little girl.
"We are pleased Beyond Housing has been able to make a small contribution in her name to help grow friendships among the children of Friarage School, which has been at the very heart of this local community for generations."