Crawfest: Mini music festival near Scarborough created in memory of ambulance worker who lost his life
A Scarborough paramedic has created a music festival in memory of his colleague, Al Crawford, who died from Covid last April.
Wednesday, 23rd June 2021, 9:35 am
Updated
Wednesday, 23rd June 2021, 9:36 am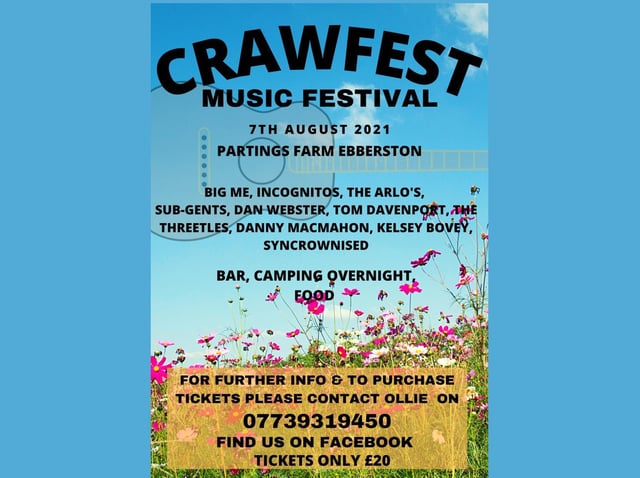 The Crawfest poster.
Crawfest will take place at Partings Farm near Ebberston on Saturday August 7 from 11am to 11pm.
Ollie Lord came up with the idea for the mini festival to honour his friend and colleague because he had been a big fan of music.
Ollie said: "I wanted to do something to remember him that was fitting.
Ollie Lord, who has organised the festival. Picture: Ollie Lord
"He was a really nice guy, very well liked, really funny. He's really missed.
"It felt like a nice thing to do for the staff of the ambulance service and it's grown from a small thing into something bigger."
Originally intended to be just for the ambulance service, Ollie then opened up the event to NHS workers and now to the general public, though tickets are selling fast.
There are ten bands booked covering a wide range of music, including local band The Subgents.
As well as music there will be a bar and food stalls and those going are also able to camp overnight.
There will be a raffle including prizes from Proudfoot, Walkers fish restaurant, Morrisons, Sainsburys, Yay Coffee, a pair of tickets to Scarborough Athletic FC and many more.
Along with ticket sales, all proceeds will go to The Motor Neurone Disease Association and The Alzheimer's Society.
Ollie explained that in his work he comes into contact with a large number of people who suffer from the two conditions.
He said that for himself and his colleagues in the ambulance service the last 18 months of the pandemic had been really difficult.
"When you lose a member of your station to the disease it makes it hit home how vulnerable you are," he added, "I think people really need an event like this to let their hair down."