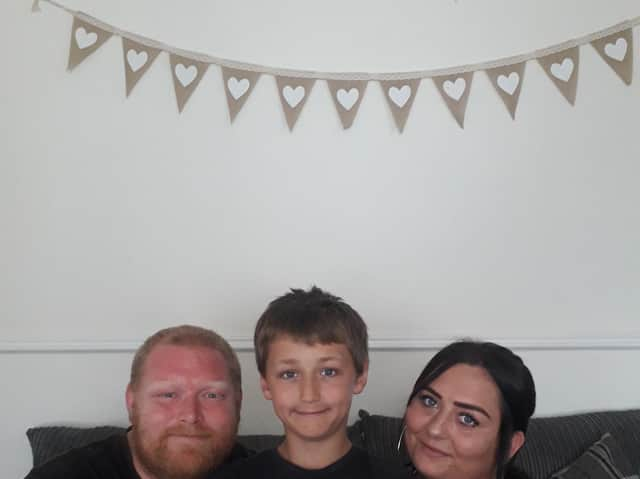 Eli Harrison with his dad Ian and mum Kayleigh. Eli is pictured with a certificate Kayleighs colleagues made for him when they heard about his brave actions.
Young hero Eli Harrison swam with the little boy back to shore after spotting him floating in the water off Staithes beach on Friday afternoon.
The 11-year-old's mum, Kayleigh Harrison, praised her son's bravery.
"He saved a life," she said. "I'm so proud."
Kayleigh and her husband Ian had taken Eli, his 12-year-old brother Billy and nine-year-old sister Gypsie-Rose down to the beach late on Friday afternoon to see the tide come in.
It was Ian who spotted the little boy - aged between two and three - floating in the water.
"Ian started to take his bag off so that he could go in but by the time he had it off, Eli had jumped off the pier to go and get him" said Kayleigh.
"The bairn was about 10 metres away from the shore. Eli had one arm holding onto him and using the other arm to swim back."
The child's mother rushed to meet Eli and took the little boy in her arms.
Although he seemed to have swallowed a large amount of water and had been floating when the family spotted him, he seemed to have made a full recovery.
The toddler's mother gave Eli £10 to thank him for his rescue.
Eli, who has just finished at Seton Primary School, was initially on an adrenaline rush but later shaken by the reality of what had happened, said Kayleigh.
As a healthcare assistant, she has tried to teach all her children how to carry out CPR and Eli has always been keen to learn.
"He is one of the best swimmers ever," she added.
"He has no fear of water at all.
"Because he has grown up here, he understands about the sea and the currents and the tides."
She added he hopes to volunteer for the lifeboat crew, as other members of his family have done.