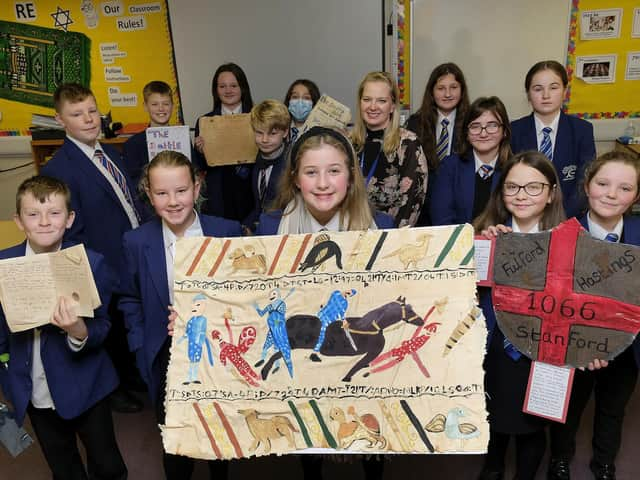 Filey Ebor school students celebrate their history project with History teacher Ms Williams.
The Year 7 pupils were tasked with finding creative ways to show their learning about The Battle of Hastings and the events of 1066.
They could either tell of events leading up to the the battle, or The Battle of Hastings itself, through storyboards, pictures, diary entries and even papier-mache models.
History teacher Gill Williams said: "All of the students got really excited about it, they were coming up to me at break times and lunch times with their ideas and were so enthusiastic we decided to make it into a competition.
"Especially with it being a difficult year and also coming up to Christmas we thought it would be a nice thing to do."
English Heritage kindly donated a family pass worth £35 for the winner and there were gift vouchers for second and third place winners.
Headteacher Terry Cartmail announced the winners just before the school broke up for the holiday, and the students' artwork will be displayed in one of the school classrooms.
2nd prize – Ruby Tomlinson
3rd prize – Jessica Baxter