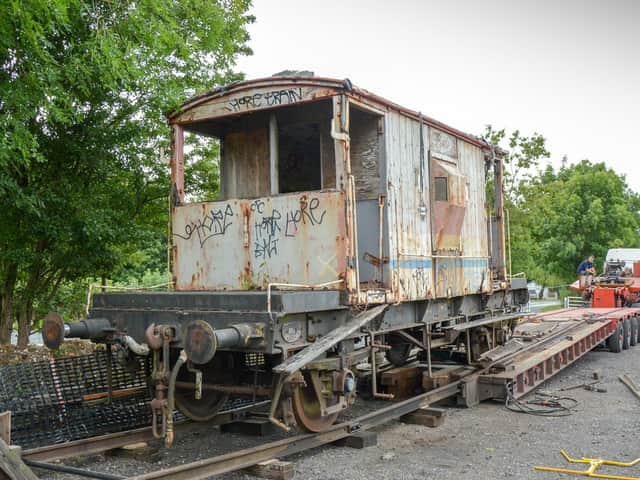 The brake van on arrival.
Fundraising initiatives have been launched to help East Yorkshire's only heritage railway reach its current goals of finishing the siding, and completing its brake van restoration.
Chairman Phil Robson said: "Once we were able, a Covid secure working practice was implemented meaning that a limited number of willing volunteers were able to continue their sterling work on site. The funding grant awarded from LEADER has allowed us to continue to lay track through field 2. This is now complete and means we will be able to offer rides along a full 1000ft of railway line once we reopen.
"We have launched our "finish the siding" campaign to raise funds to allow us to transport passengers along the newly extended line, over the point, back along the siding, and then reverse the whole process. It will be a great experience. We already have the sleepers required for this and are now looking to raise £3000 for the rails to complete the works."
The brake van as it is currently.
In addition to the new track work at Fimber Halt, volunteers have also been hard at work restoring the 1961 brake can that arrived at the site on Yorkshire Day in 2018.
Phil said: "Brake vans were coupled to the rear of goods trains and were staffed by the guard. They aren't used on the main line anymore and many have found their way onto heritage railways to show how good trains used to run, or to offer the opportunity of giving rides to passengers.
"Our brake van restoration team led by Andy Barwick and Keith Jakowyszyn, have worked tirelessly replacing timber, tidying metal work, and making parts from new. We set a funding target of £8000 back in 2018 to complete the restoration work, and we are now on the final stretch for which we need to raise the remaining £3000.
"With the much appreciated public support, and the continued efforts of the volunteers, we hope to put the brake van into service during 2021."
Anyone wishing to support the YWR can do so by visiting the funding pages of their website at www.yorkshirewoldsrailway.org.uk/support There you can not only donate to the cause of your choice, but can also learn how to become a member.
The YWR re-opens to the public on Sunday 4 April from 11am – 5pm and will be open every Sunday and bank holiday until the end of September.
The YWR is always keen to involve new people, and anyone interested in becoming a member or volunteering, making a donation or just finding out more can visit the Yorkshire Wolds Railway website or call 01377 338053 for more information.