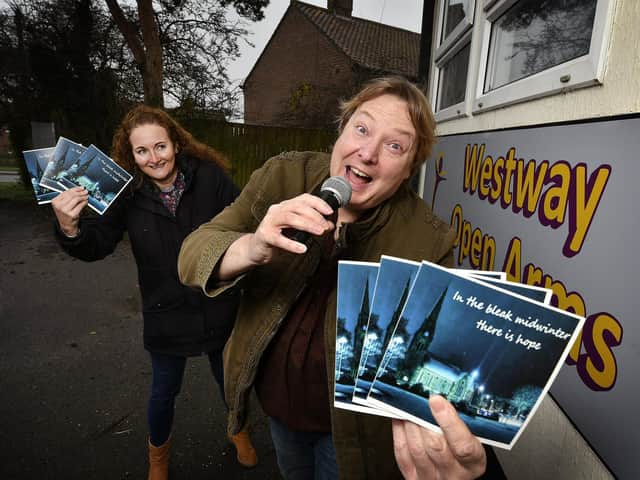 Rev Sam Taylor with Rob Parker and his cards
Rob, 56, has moved to Scarborough from Bridlington with his wife, the Rev Jo Parker, who is curate at Holy Nativity Church in Eastfield.
He said: "I thought about recording a song and it has been quite a miserable winter, especially for families that are facing difficulties.
"It's been a rubbish year but the vaccine is the light at the end of the tunnel.
"In the Bleak Midwinter captures that sentiment and the song offers hope and a way through the bleakness.
"It seemed such an appropriate song I decided to record it.
"I want any money from the sales to go to the families on the Eastfield estate.
Rob, who released his latest album Intimercy earlier this year said: "The idea of the Christmas cards is that people can buy them for friends and family and download the song with the QR code that's inside."
The Christmas cards were sold on Rob's own website www.robparkermusic.com/shop and all proceeds from the sales will go to Westway Open Arms.