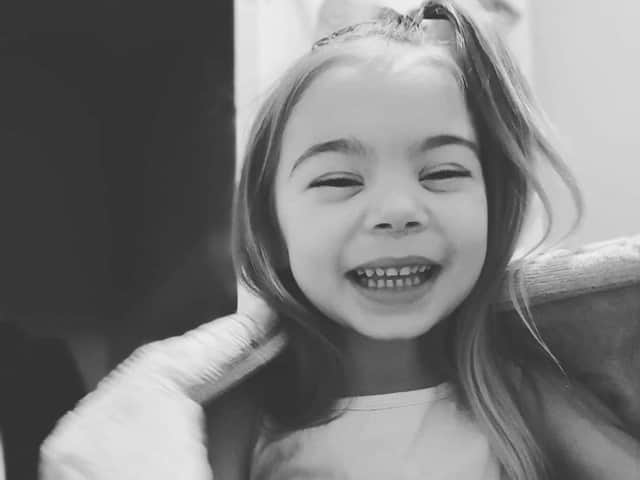 Thalia-Beau Wright.
A farewell to the courageous five-year-old, who died while awaiting a heart and lung transplant, takes place on Monday and people are being invited to turn out in tribute to her.
"She is our whole world and we're heartbroken," said Thalia's grandmother Christine Johnson.
"Part of us died with her. We're just numb.
"She had a beautiful heart and soul. Everyone that met her gravitated towards her.
"There was something unique about Thalia.
"She wasn't here long enough for us but she touched hearts all over the world."
Thalia suffered from restrictive cardiomyopathy - a rare condition which meant she needed a new heart and lungs.
She was on the urgent list for a transplant and her doctors, including a team at Great Ormond Street Hospital in London, were doing everything they could to try to find her a donor.
But Christine said Thalia became very poorly very quickly, and there was nothing that could be done to save her.
She spent her last days at children's hospice Martin House, in Leeds, where she passed away peacefully last Monday with Christine and her husband Simon - Thalia's 'Nanny and Pops' - by her side.
"We're so grateful to Martin House, who looked after her," said Christine.
"We're so grateful to everybody. The whole of Scarborough is in mourning, we know that.
"Nothing can make us feel better but we are thankful that people are caring for us and surrounding us with love."
She also thanked everyone who contributed to an online fundraiser set up by friends of the family to pay for Thalia's farewell next week.
The page has had a staggering response, collecting over £11,500.
"It's been unbelievable," said Christine. "It's something we didn't want to have to think about but it means she'll be able to have everything."
The celebration of Thalia's life will be held at St Mary's Church at 1pm on Monday and the procession will include a horse-drawn carriage.
On their way there, her family plan to stop at their beach chalet in Scarborough's North Bay and are inviting people to turn out, following social distancing guidelines.
With places in the church limited because of coronavirus restrictions, people are also being invited to the church grounds where audio of the service will be broadcast.
Thalia loved Disney, especially Frozen's Elsa, and her favourite colour was the same as Elsa's dress - baby blue.
People are being invited to wear the colour on Monday to honour the little girl.
Donations on the day will go to Martin House Hospice. Donations can also be made online.
Thalia's family have campaigned tirelessly to raise awareness of the need for organ and heart donations and Christine has vowed to carry this work on in Thalia's name.