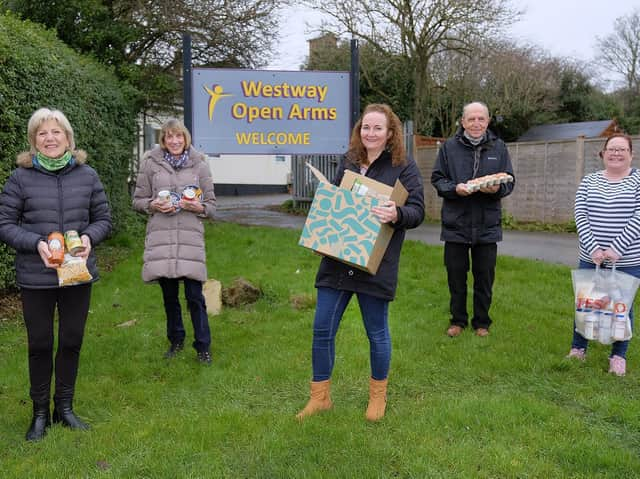 Working hard at The Westway Open Arms with charity donations. Oliver Jan Wells Rev Sam Taylor, David Oliver, Rev Jo Parker. pic Richard Ponter
She said: "We've not closed throughout the pandemic. We've remained open to speak to the public about things like food, gas and electric.
"This place used to be busy, buzzing with local residents who would just drop in Monday to Thursday.
"People have been feeling isolated and lonely. Sometimes we've just been standing outside in the garden to have a chat.
"Some of those who have had donations, when they're back on their feet, have wanted to repay us. Some have been very generous.
"There's a wonderful sense of community in Eastfield that's never talked about.
"For Christmas, we're doing a few things. We're open until Christmas Eve and accepting referrals over Christmas.
"We want to make sure that the elderly and vulnerable know that they've been remembered.
"We're part of the 'Let's leave no one behind this Christmas campaign' for which so far we've received more than 100 referrals."
The 'Let's leave no one behind this Christmas' campaign is a collaboration which has sprung up across Scarborough to ensure that those who may be alone this Christmas will receive a Christmas afternoon tea, a Christmas card and a treat from Santa.
The initiative covers areas such as Barrowcliff, Northstead, Newby, Newlands, Falsgrave, Edgehill, Eastfield, Osgodby, Crossgates and Seamer.
"We're making sure that our families get large hampers, and we're giving gifts to children and families.
"We've been collecting Christmas items, nice biscuits, that kind of thing. We've also been gathering new toys or any kind of gifts older people may want and putting together Christmas Eve parcels.
"We will have extra hampers for families, over 100. We have the largest estate in the town and some of the families are huge. Some have seven children.
"Churches and local business have been really generous."