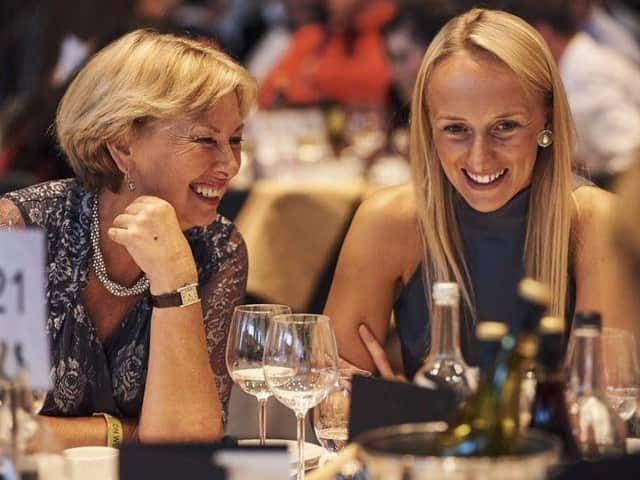 Molly and Joan Coombs.
Grand Get-Togethers, in Sherburn, near Malton, is in the running for Best Rural Tourism Business in the Rural Business Awards.
Mother-and-daughter team Molly and Joan Coombs will battle it out against fellow rural businesses, entrepreneurs and enterprises from across the country for the chance to be named a national winner.
They pair have diversified from farming to provide large, luxury group accommodation specifically geared towards celebrations along with a licensed wedding venue.
The pandemic has meant Grand Get-Togethers had to shut for nearly eight months this year and lost all of its summer wedding bookings.
But Molly and Joan have persevered and been determined to see the businesses survive.
"It is an absolute honour to be recognised for our efforts, especially in such a challenging year," said Molly.
"Usually our properties are full of giggling girls and groups celebrating and it has been devastating to see them empty.
"Receiving the news that we had been shortlisted as national finalists certainly helped to brighten an extremely difficult year."
The awards recognise rural businesses in 13 categories, from Best Rural Start-up and Best Rural Diversification Project to Best Rural Professional Services Business and Best Rural Innovation.
The winners will be announced at an online final on Thursday, February 25.
Director and Co-Founder of The Rural Business Awards, Jemma Clifford, said: "This year has been an unprecedented challenge for businesses across the country but we have still had a fantastic amount of entries from rural businesses, showing the true determination of people working in the rural economy.
"Here at the Rural Business Awards we remain committed to our vision of showcasing the fantastic work of rural businesses and believe that it has never been more important than now.
"On behalf of the team, we want to say well done to Grand Get-Togethers, and all the shortlisted businesses, and wish them luck ahead of the national final."
Grand Get-Togethers are also celebrating willing Best Self-Catered Accommodation in the 2020 Welcome to Yorkshire White Rose Awards.
Molly said: "We were completely in shock when they announced our name as winners.
"We have been trying to remain positive throughout 2020 but it hasn't been easy. It is overwhelming and amazing to be recognised for our efforts especially in such a strong category.
"We would like to commend all of the other hospitality businesses in the region for showing true Yorkshire grit this year, especially to the other finalists."