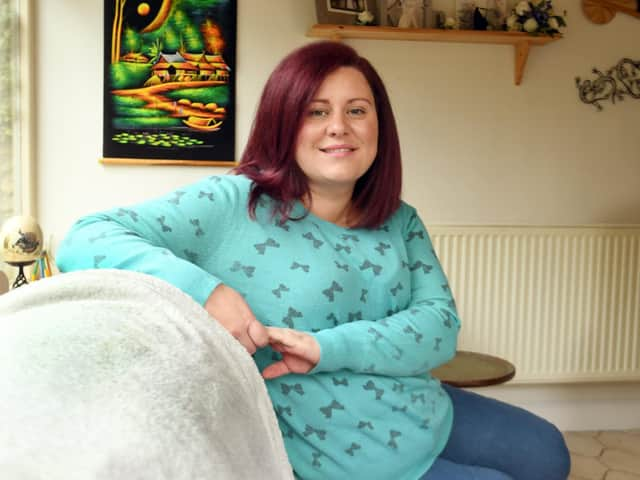 Suzanne Kings lost her baby at 36 weeks pregnant.
Suzanne Kings was 36 weeks pregnant when she was given the devastating news that the baby she was carrying had no heartbeat. At the time, July last year, the 29-year-old had just moved to Scarborough, where her family live, to fulfil her ambition to become a nurse.
"We arrived on the Saturday and I lost my son on the Tuesday," she said.
After finding out their baby had died, Suzanne and her husband were given a maternity bereavement suite, a dedicated room designed to feel more homely, where a consultant informed them they were going to induce labour, a process that could take up to 48 hours.
Suzanne during a training run in Ebberston.
"We had the room the entire time, we had whatever we wanted which was absolutely lovely in that respect," she added.
Two days later, on July 23, Suzanne gave birth to a baby boy called Bokke, a name of African origin that means springbok.
"It was the nickname my dad was given at the cricket. All throughout the pregnancy we didn't know if it was going to be a boy or girl and when we found out we thought it was a good name for him because he was very bouncy and jumpy during the pregnancy, there was always lots of kicking."
In the hours and days that followed, Suzanne and her husband were supported by midwives from the maternity bereavement unit who allowed them to stay in a dedicated suite with a refrigerated cuddle cot so they could make memories with their little boy.
"They stayed with us and helped us take pictures and handprints. It was amazing to have someone there who understands and helped us through it."
Despite the tragic death of her newborn, Suzanne, who now lives in Ebberston, still considers herself "lucky".
"Lucky because I had people around me that have kept in close contact with us since it happened. They helped us keep our heads high and carry on, go back to work and things like that. It's been quite amazing to have that."
To thank the medical staff who helped her and her husband and raise money for the service, Suzanne, who is now "proud" to be a nurse at Scarborough Hospital, will be taking part in a five-mile run in Harrogate on Saturday February 1.
"The reason I'm doing this is, this isn't available in every hospital although it seems like it should be. It's only through fundraising that [the maternity suite] has come about.
"I want to raise awareness that these things happen and we can't get away from it unfortunately, but there can be services in place to make it easier and make you feel protected."
Anyone who would like to make a donation to the service can do so HERE.