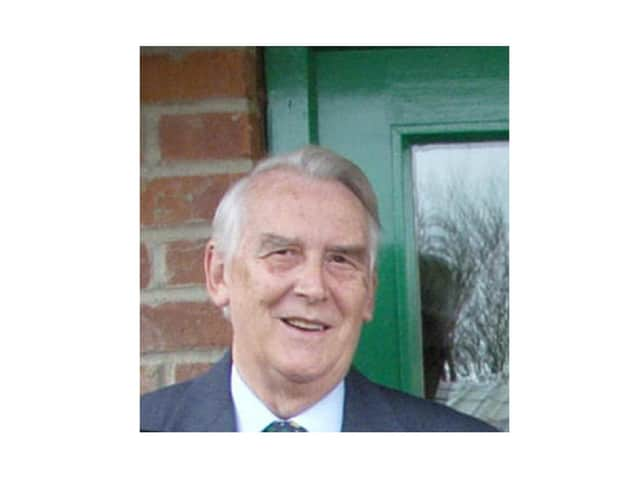 John Parkinson.
John Charles Parkinson was born in Scarborough on February 10 1934 and passed away on April 19 at his home in Harpenden in Hertfordshire.
John lived in Scarborough until 1939 when his family moved to Derby, and returned to the town in 1950 with his mother and older sister Janet after the death of his father.
He trained in law, supported by Janet, and in 1956 was admitted as a solicitor of the Supreme Court of Judicature.
He then went on to complete National Service as a nursing assistant at The Retreat Hospital for Mental and Nervous Diseases in York.
Mr Parkinson would later describe the experience as "the making of me, and I really grew up during my time there". It was also while at The Retreat that he met Civil, whom he became engaged to in August 1958 after a three-month courtship.
After starting work in Wigan in September 1958 and his first appearance in court in October, he married Civil on December 13 in Manchester and the couple remained married until Civil's death in 2005.
The couple had four children – Mike, twins Katie and Sue, and Helen – and moved back to Yorkshire in 1962, initially to Malton where he worked for Pearson & Ward Solicitors, and then to Scarborough in 1964.
His family described him as "a bit of a softie" who could shed a tear or two with pride in his children's achievements.
Mr Parkinson was also described as a "workaholic" who would continue working on client papers in the evening at home in front of the television and would often go into work on Saturday mornings to "open the post".
He specialised in wills, probate and conveyancing and his workplace was like a second family to him.
Mr Parkinson was heavily involved in charitable work with various trusts well into his 70s, including the Wilf Ward Family Trust and the Plaxton Housing Trust.
As professional trustee of the Eric Plaxton Trust he worked with the RNLI on the commissioning of the new lifeboat for Scarborough, and was a VIP guest of the RNLI at the naming ceremony of the Frederick William Plaxton.
He continued working until the age of 70, by which time the practice had been bought by North Yorkshire Law.
He did, however, semi-retire and make time for travel and visiting children and grandchildren with Civil.
Though he had never flown before, in 1983 Civil persuaded him to go on holiday to Guernsey, which was followed by travel in Europe, Egypt and eventually Australia and New Zealand.
Outside of work Mr Parkinson was a sports fanatic and devout follower of Scarborough and Yorkshire cricket clubs and Derby County football club.
His children remember autograph hunting with him at The Royal Hotel when Brian Clough was staying there at the height of his success managing Derby County.
As he approached 80, Mr Parkinson made the difficult decision to leave Scarborough and move south to be closer to his family.
His children said he remained loyal to Scarborough, retaining membership of the Scarborough Society of Friends (Quakers) and Scarborough Cricket Club.
"Perhaps a case of you can take the man out of Scarborough but not Scarborough out of the man," they said.