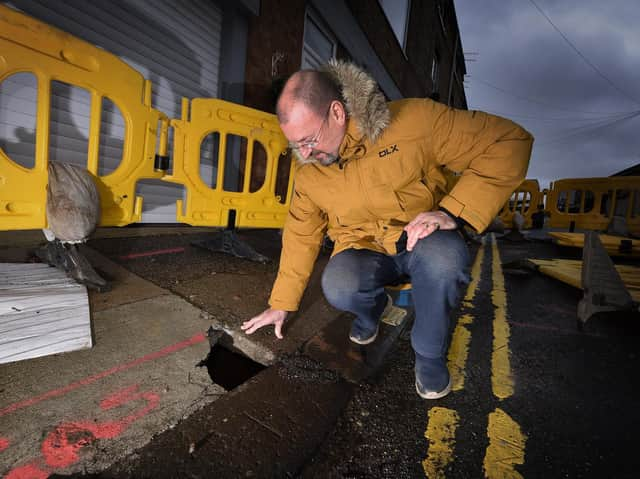 Paul Bishop examines the sinkhole. Picture by Richard Ponter
Paul Bishop, who moved into his house on Melrose Street three years ago, has expressed his anger at Yorkshire Water who he feels could have prevented the situation.
"Since we moved in there have been problems with the sewers," Paul explained. "But last summer the main sewer collapsed.
"Yorkshire Water said they would fix it but instead have just been putting pipes down to clear the water and sewerage every day."
Paul Bishop on Melrose Street. Picture by Richard Ponter
At the end of November Paul noticed a hole in the pavement in front of his house and, upon further inspection, discovered a large sinkhole he estimates to be around 10ft by 10ft by 5ft big.
Paul added: "I don't feel comfortable with the situation. My wife and I are both worried the sinkhole is undermining the foundations,"
Paul's property has a basement living room which flooded in the recent heavy rainfall, causing damage to his carpet and furniture.
A spokeswoman for Yorkshire Water said: "We're sorry for the disruption and any stress this has caused to customers in the area.
The opening to the sinkhole. Picture by Richard Ponter
"Our contractors, Bar-hale, are evaluating what work needs to be done to fix this issue as soon as possible."
When asked if the company would replace any damaged property, the spokeswoman said: "We'll be liaising with customers' insurance companies to understand what, if any, damage has been caused and we'll be supporting them where we can.
"We also have a dedicated customer liaison officer who's keeping in regular contact with everyone and supporting them while we complete the repair work."
However, Mr Bishop said though the customer liaison has been in contact, no-one has yet asked for his insurer's details.
He said: "I feel this has been caused by negligence and turned into a huge issue when they could have just fixed the collapsed drain to begin with."