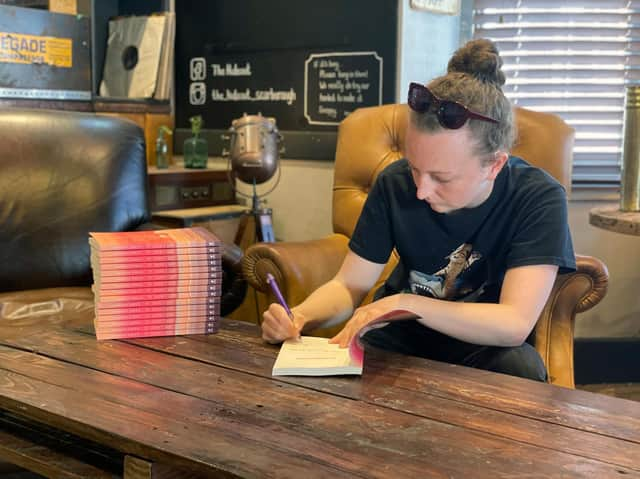 Hannah book signing.
The café has bought 100 copies of Hannah's book, My Journey Home, to support her and her chosen charity, the Wave Project.
When The Hideout reopens on May 17, Hannah will be there from 12noon signing a free copy of the book for 30 customers.
The café plan to sell the remaining books for £10 each to support the Wave Project, a charity that uses surfing to help young people with mental health issues.
Hannah Green outside The Hideout with her book, My Journey Home.
The Hideout General Manager Jordan Padgham said: "When we learned of Hannah's inspirational book and the charity it supports, we wanted to help in any way we could.
"We decided to make the book a part of our grand re-opening after lockdown and are happy to support the Wave Project at the same time."
James Mason, Chief Executive of Welcome to Yorkshire, will also be calling in to The Hideout on the Monday May 17, and on Wednesday May 19, the Town Crier will be at the café to welcome customers old and new.
Jordan said: The café has not been resting on its laurels during the closure. It has added a new coffee machine and pizza oven, as well as improving the kitchen ventilation at the café.
"The lockdown has been hard, but it has given us the opportunity to make some improvements which we know will be appreciated by our customers."
"We look forward to welcoming all those customers, old and new, back to The Hideout and send all other local hospitality businesses our best wishes for a great summer."
Hannah's book, My Journey Home, is her story of abuse, homelessness, drug and alcohol misuse and finally salvation, through surfing. Hannah is a volunteer with the Wave project and also works as a freelance writer, journalist and speaker.