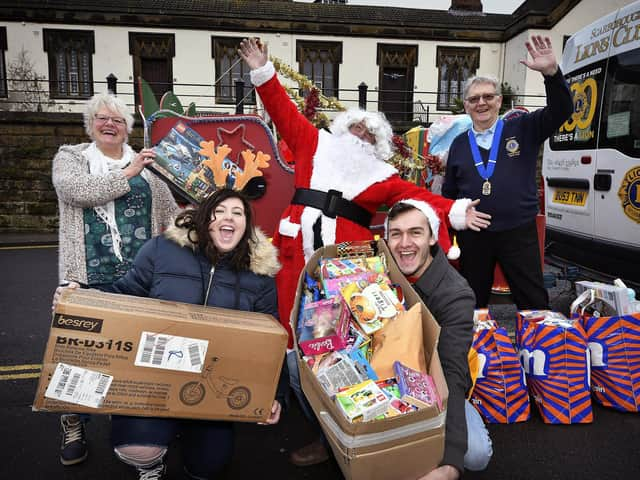 Courtney Richardsonand Joe Maw deliver gifts to the Rainbow Centre,pictured with Trish Kinsella of the Rainbow Centre assisted by Santa and Lions President Rob Hunter
A young couple living in Cumbria have been working hard to make a difference to the lives of young people in Scarborough this Christmas.
Joe Maw, 23, and Courtney Richardson, 22, are both from the town, but currently living away while at university.
Courtney, a former George Pindar student, is training to be a primary school teacher at the University of Cumbria.
She said: "I'm very child orientated. I've always been aware of children in poverty and I said to Joe why don't we do something to try and help.
Joe said: " As much as anything, after how naff this year has been we've been thinking we can't wait for Christmas, but for some kids that's not an option, and we want to make that happen."
Joe, who is studying law at the University of Northumbria, said: "It was something we both wanted to do. We've got quite a following on social media, so we're trying to make sure kids who wouldn't normally get presents get presents."
Joe, a former Graham School student, said his social media accounts became popular after he spent six years playing Johnny Taylor in CBBC television series Tracy Beaker Returns.
He said: "We set up a wish list on Amazon titled Make Christmas Special for Everyone.
Courtney said: "There were gifts on the wish list from £1 up to however much you want to spend."
The list contained all sorts of toys, from Hogwarts jigsaws to baby blocks.
The couple collected the gifts in their Cumbria home, before returning to Scarborough at the end of the second lockdown on December 3.
In total, the couple collected 318 toys which, with the help of Scarborough Lions and Santa himself, were delivered to a beaming Trish Kinsella at the Rainbow Centre.
Joe said: "The delivery went really well. The Lions were super happy with the toys, and it felt good to think we were helping to make some people's Christmas that little bit better!
"When we were at the Rainbow Centre dropping the gifts off, the children from the nursery there came to the door to watch, and their faces lit up when they saw Santa and the presents, so it was really heartwarming!"
Trish Kinsella from the Rainbow Centre said: "There are hundreds of families and hundreds of children who we are doing gifts and food for. We are packing over 900 bags this year and I want to say a huge thanks to Joe and Courtney for what they have done."