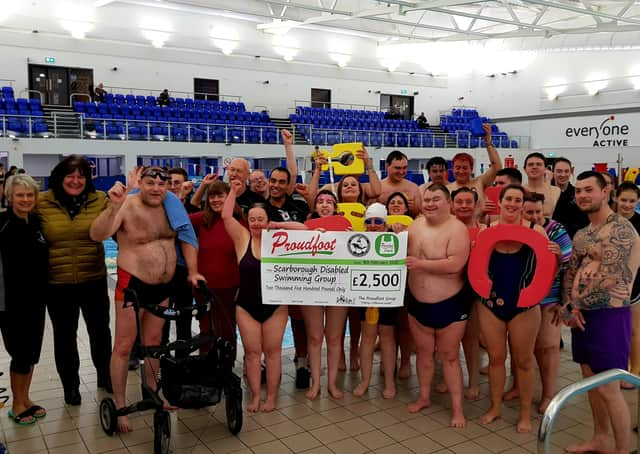 Scarborough Disabled Swimming Group is presented with a cheque from the Proudfoot Group for £2,500.
The Scarborough Disabled Swimming Group was given £2,500, raised through the 5p carrier bag charge in Proudfoot stores.
The donation will help towards the cost of the swimming group's Special Olympics team attending regional competitions and the pool and lifeguard costs required for training, enabling the group to take up to two extra swimmers.
The funds will also contribute towards items for the final stages of the group's Aqua Sensory Project that will see sensory equipment installed at Scarborough Sports Village.
Richard Westgarth, chairman and volunteer coordinator at Scarborough Disabled Swimming Group, said: "After a lot of work over the last two years, we have secured capital funding to install aqua sensory equipment at the pool.
"It will be the largest in North Yorkshire, open to the public, spanning the whole learner pool and three lanes in the main pool, costing in excess of £70,000.
"We are hoping this equipment will help increase our session numbers, in the long term, enabling us to become less dependent on external funding to pay our pool hire and lifeguard fees."