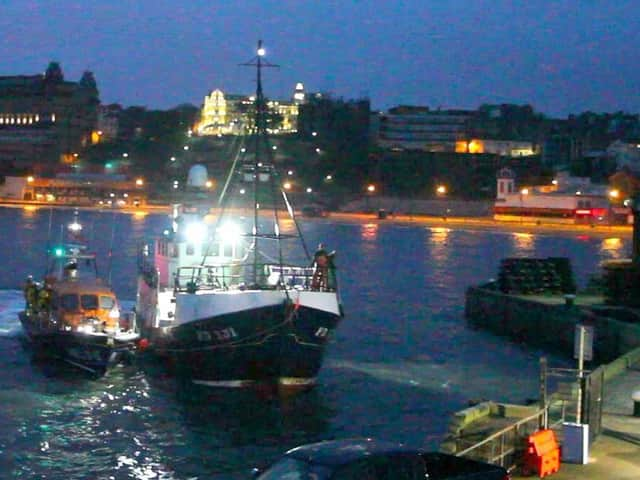 Fishing boat rescue
The Fleetwood-registered Boy Christopher was 10 nautical miles north-east of Scarborough, on a calm sea.
The all-weather Shannon lifeboat launched shortly before 3am and reached the fishing boat soon afterwards. The lifeboat deployed a drogue, a tapered tube of heavy-duty material, to keep the rescued vessel straight while under tow.
The 17-metre fishing boat was towed back to South Bay, where the lifeboat moved alongside to push it against the outer wall of the West Pier. This enabled a rudder inspection and possible repair at low tide. The Boy Christopher returned to the harbour later.
On a high spring tide, the lifeboat was temporarily berthed alongside another vessel moored on the north wharf, to be rehoused at low tide.
The crew on the lifeboat for Thursday's rescue were coxswain Lee Marton, mechanic Paul Huggins and crew members Jason Hedges, John Huntley, Erik Woolcott and Adam Sheader. The shore crew were Simon Loveland, Tabz Nixon, John Wallis, Phil Chittenden and Eve Lee.
Lifeboat operations manager Andy Volans said: "As ever, the ongoing Covid-19 situation does not affect the station's readiness and responsiveness to calls for help when required.
"Please keep safe and don't go in the sea or out to sea unless you have to".