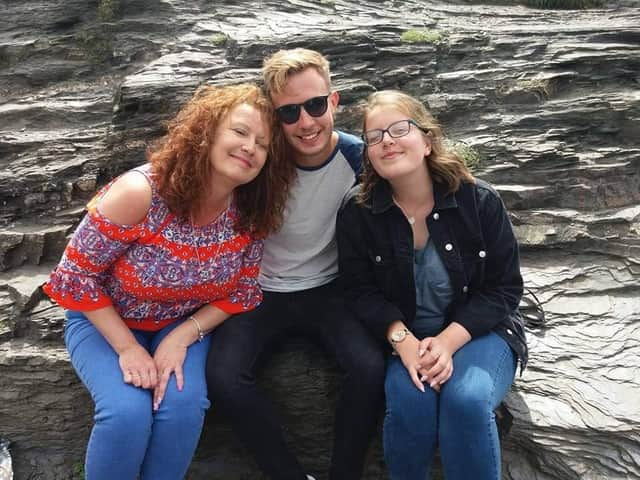 Mum Heather, left, Brad, and Jesse.
Heather Walker and her son Brad have decided to start a new fun tradition of taking a Christmas Day sea dip in memory of Jesse, who loved the festive time of the year.
Heather, who has a fear of the sea, wanted to challenge herself in memory of her daughter, who took her own life following complex mental health difficulties in 2019, and raise funds for Childline.
The NSPCC-run counselling service provided support for Jesse during some difficult times.
Donations have poured in from friends, family and work colleagues, who plan to watch the pair don their wetsuits.
The fundraising target of £250 has already been smashed with donations reaching £2,000 and rising.
This amount of money will be enough to cover the cost of answering 500 contacts to Childline from children in desperate need of someone to talk to.
Heather said: "I wanted to do something positive for Childline and raise awareness for this amazing organisation.
"Jesse was always so caring and loving, helping others. In her darkest times, she reached out for help outside her loving family/friends circle and Childline was there to listen to her and care.
"I wanted to keep Jesse's wonderful giving spirit alive by doing something to help others.
"I would really like to thank everyone who has donated so far and I would especially like to pay tribute to my husband Simon, whose encouragement and support has meant the world.
"I hope the funds raised will go towards saving a child's life in their time of need."
Heather realises that with her fear of the sea it will be a big challenge but with her son Brad by her side, holding her hand, she knows she will be brave enough to take the icy plunge.
She added: "Setting a new fun tradition to do with my son was so important, he has been so courageous during what has been such a terrible year.
"I hope that by doing this together, keeping Jesse's Christmas spirit alive, he realises how much I love him and cherish his support."
Christmas can be a difficult time for children experiencing adversity, and this year the impact of coronavirus is likely to make it even harder.
Elaine Kaye, the NSPCC's Local Community Fundraising Manager, said: "I can't thank Heather and Brad enough for such a truly courageous and generous gesture.
"I hope their wonderful efforts will inspire others, to donate £20 or whatever they can, because every donation helps make sure children have someone to hear their troubles at a time of year when it's all too easy to feel isolated."