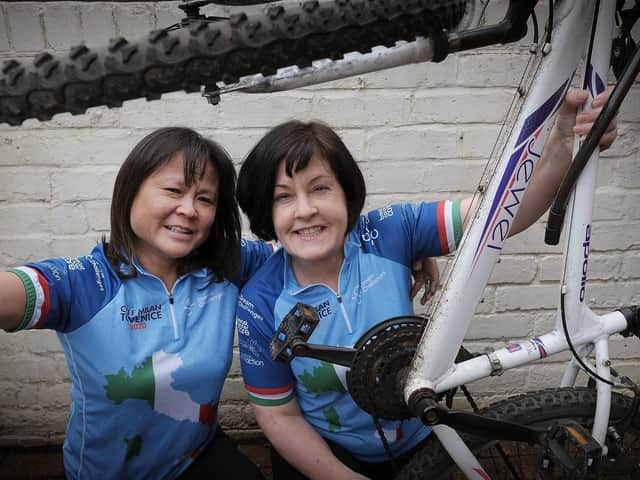 Tracey Ogden and Karen Rogers get ready for their charity bike ride.
Tracey Odgen, a district nurse, and her friend Karen Rogers, who works in Scarborough Hospital's female unit, are getting ready to cycle 220 miles from Milan to Venice to raise money for ovarian, breast and cervical cancer charities.
"As nurses we deal with people with cancer all the time," said Tracey, 53.
"Karen deals with patients at the early stage when they get their diagnosis whereas I tend to look after people who are terminally ill.
Nurses Tracey Ogden and Karen Rogers.
"I know people who survived and people who sadly passed away. I have family members who died of overian cancer and friends who just completed treatment for breast cancer.
"People don't realise that most people have either had it or had a family member or friend who did. We just want to highlight how common it is and raise some funds."
To do this, the pair have organised fundraising events in the hope to hit their £3,500 target.
The first one, a race night, will take place on Friday February 7 at 7pm at the Crown Tavern while on Friday February 21 there will be an 80s music night at Roscoe Room.
Tickets for the latter are £10. The event will feature a live band, quiz, raffle and pulled pork bap.
"Every little amount is better than nothing. We know that early diagnosis is essential and more and more women are surviving longer but we also need to fund more research and develop effective treatments and cures."
The two friends, who are both passionate about mountain biking and have completed similar challenges in the past, will be flying out to Italy on May 7 to complete the bike ride over the course of three days.
"I'm looking forward to it, it's the right time of year and the scenery should be amazing, going past Lake Garda.
"It's good for your well-being, it's good to challenge yourself and it's a chance to meet like-minded people while raising money for a good cause."
All the money raised will go to Breast Cancer Care, Ovarian Cancer Action and Jo's Cervical Cancer Trust.
Anyone who would like to donate can do so via their Just Giving page.