Scarborough yoga studio celebrates the summer solstice and International Yoga Day
A Scarborough yoga studio has celebrated the benefits of the exercise on International Yoga Day today.
Monday, 21st June 2021, 1:29 pm
Updated
Monday, 21st June 2021, 1:31 pm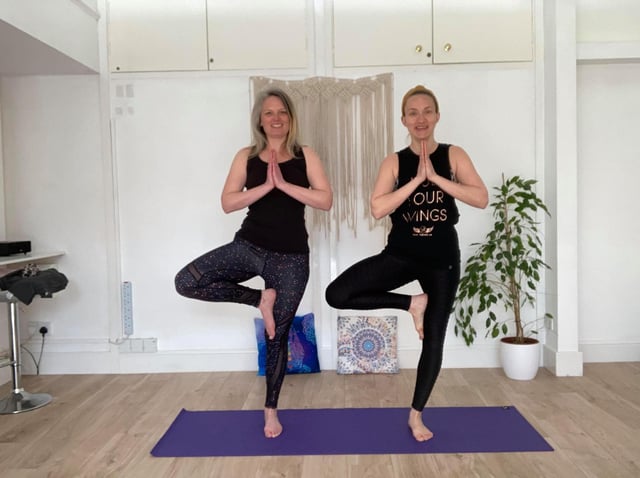 Fran Kitson and Becky Hildreth of BeYoga Studio in Scarborough
BeYoga Studio, in the Yorkshire in Business building on Auborough Street, is a new studio and online yoga community run by Fran Kitson and Becky Hildreth.
The pair, who started the BeYoga Studio at the beginning of the first lockdown, have celebrated the Summer Solstice and International Yoga Day.
International Yoga Day is a celebration of the physical and spiritual prowess that yoga has brought to the world.
It started in 2014 after an agreement by the UN General Assembly to bring the benefits of yoga to as many people as possible, all over the world.
Yoga teacher Fran said: "As we emerge from the experience of lockdown and Covid, many people may feel the last year has taken its toll on their mental wellbeing.
"For thousands of years, yoga has shown people how to connect mind, body and soul.
"Yoga is wonderful for our physical and mental wellbeing helping us manage aches and pains, anxiety, depression, stress, sleep problems, and much more – and most relevant to our current situation, Yoga is increasingly being shown to support our immune system."
Fran said it has been hard to begin a new business during the pandemic. Yoga classes are limited to six participants so those taking part feel safe.
However, they have also been offering their classes online.
She said: "People really need it after the last 12 months. It's been such a stressful time and it's difficult getting back to normal life.
"It's so important to have rest periods and give your body time to heal."
You don't need any fancy equipment or clothing to try out some yoga – just comfortable clothes and some space.
Fifteen minutes of practice has been shown to improve wellbeing.
Start by just lying on the ground and letting the body relax while you focus on your breathing.
Bend your knees so your feet are flat on the floor, hip width distance apart and continue to focus on the breath. Bring one knee at a time in towards the chest, placing the hands on the knees.
As you inhale, let the arms straighten and the knees move away from the body, exhale bringing the knees back in towards the chest, repeat about 5 times.
Release the feet to the ground and relax. You just practised Apanasana, a simple yoga movement, great for connecting movement and breath which many people find relaxing, and this pose also helps release the muscles of the lower back, an area many of us feel pain.
If you would like to try out some yoga you can visit the BeYoga Facebook page for information about free yoga on International Yoga Day or call Fran Kitson on 07949 230 348.