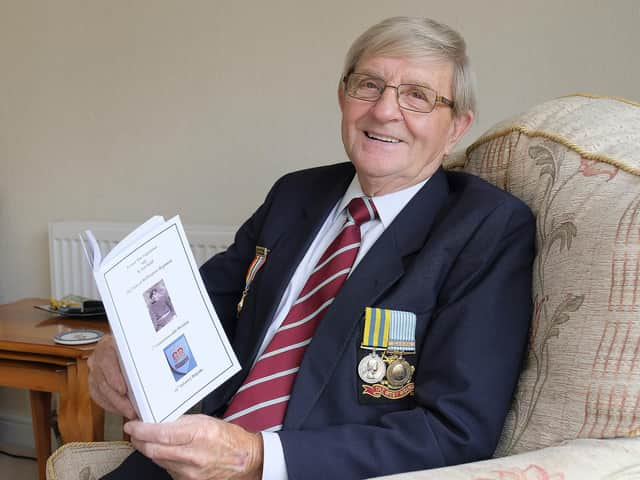 Korean War veteran Ken Keld
Secretary of a regional branch of the Korean Veterans Association Ken Keld and his wife Hazel, who live in Cayton, were among the recipients.
The widow of fellow serviceman Bob Taylor, Lesley, who lives in Nansen Street, Scarborough, also received a set of face coverings.
"Bob served in the same company as me," said Mr Keld, who was with the Duke of Wellington Regiment and served in Korea from 1952 to 1953.
A letter from the 70th Anniversary of the Korean War Commemoration Committee accompanied the masks.
It reads: "By sending this letter from a country afar, we would like to give our kindest regards to you, our dearest friends who we have never met but who are closest to our hearts.
"When your risked your life in a strange land filled with gunfire, the strange people you saved were our grandfathers, grandmothers, fathers or mothers.
"... You were young and great and now are now generous grandfathers or grandmothers while the Republic of Korea, once with nothing left but ashes of war, is a pretty great country.
"...We all remember you and are grateful to you... People around the world are suffering from and having difficulty due to the global pandemic of Covid-19.
"We are especially concerned about the wellbeing of you who dedicated your youth to protecting the Republic of Korea.In this regard, we have prepared a token of appreciation.
"This can never match with the warm hands you extended to us but we hope this will help you overcome the current crisis.
"We believe that we will emerge from this unprecedented challenge and meet in good shape in the near future."
Ten years ago Mr Keld, accompanied by his wife, returned to South Korea at the invitation of the Government which paid a substantial sum towards the trip.
As well as being secretary of the local branch Korean Veterans Association, he is also involved in the Green Howards Association.
Mr Keld, who worked at Wards in Sherburn and Plaxton in Eastfield, has also been involved in local football for nearly 50 years including being secretary of Ganton Football Club and serving North Riding County Football Association.
He has also written a book about his time in the Army called My Korean Experience.