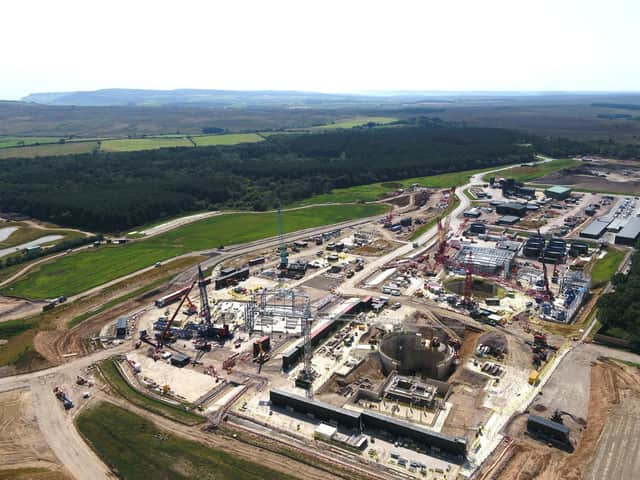 Sirius Minerals' Woodsmith Mine.
It's been an eventful few months for Sirius Minerals, the Scarborough-based mining company which has been trying to turn its dream to build the world's largest potash mine into reality.
In September last year the future of Sirius' £3.2bn polyhalite project was thrown into doubt but global mining firm, Anglo American, has now confirmed it is interested in rescuing its plans.
If you've struggled to keep up with everything that went on in between, here's a handy timeline of the major events.
Sirius could receive a takeover offer.
Sirius Minerals cancelled the planned sale of a £400m bond issue due to "global market conditions", the "uncertainty surrounding Brexit" and the current political environment losing half of its market value. This forced Sirius to slow down operations at Woodsmith Mine, near Whitby, and let go some of its workers to reduce costs.
A six-month strategic review was launched to identify a different way to finance the project before current cash resources run out in March 2020. Options might include "redistributing our finances" or "seeking a large partner".
Scarborough Council leader, Cllr Steve Siddons, urged MP Robert Goodwill to lobby the Government to offer the company financial help. Cllr Siddons then announced he had written to the Prime Minister himself to invite him to Scarborough for talks over the future of the potash mine.
MP Robert Goodwill responded saying he had already spoken to the PM who was "well briefed" about the situation. He said he had made the case for the Government to assist Sirius but this had been "declined".
Despite the difficult circumstances, Sirius External Affairs Director, Gareth Edmunds said the company remains "positive" and "committed to delivering the project". He added: "We have overcome a lot of hurdles over the years, things have never been easy but we wouldn't be doing this if we didn't think we could achieve it."
Thousands signed a petition calling for the Government to provide a £1bn loan guarantee to Sirius Minerals. Piers Quarry who started the petition urged the Government to "get your priorities straight", "stop squabbling about Brexit" and "fund this project".
Political leaders and businesses from North Yorkshire, Tees Valley and the wider region also came together to demand Government intervention.
In a joint statement, Cllr Steve Siddons - Leader of Scarborough Borough Council, Cllr Mary Lanigan - Leader of Redcar and Cleveland Borough Council, Cllr Carl Les - Leader of North Yorkshire County Council, Ben Houchen - Mayor of the Tees Valley, Henri Murison - Director of the Northern Powerhouse Partnership, David Kerfoot - Chair of York, North Yorkshire and East Riding Local Enterprise Partnership and Nomi Ahmad - Head of Sembcorp Energy UK, said: "We will do everything in our power to harness Government support for the Sirius Minerals project. The significant and once in a generation opportunity the projects presents to transform our communities and deliver economic benefits on a regional and national scale should not be underestimated.
The Government issued a response to the petition after it was signed by more than 11,000 people. A spokesperson from the Department for Business, Energy and Industrial Strategy said the Government's interactions with Sirius Minerals were "commercially confidential," adding that it wasn't possible to "comment further".
Sirius announced it was looking for a strategic investor to back a new development plan. Managing Director and CEO of Sirius, Chris Fraser revealed that the company was talking to potential partners and investors in a bid to raise £470m by April.
Global mining firm Anglo American launched a bid to take over the company. A decision on whether a formal offer will be made will be taken by 5pm on February 5.