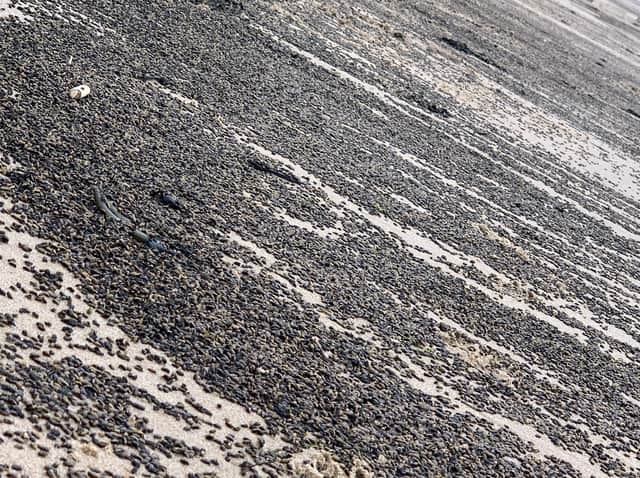 The beetles on Cayton Bay. Picture: Jack Dickens
Pictures show the insects covering the sand at Cayton Bay and South Bay and they were also spotted on North Bay, according to a Facebook user.
Reports of the strange incident first occurred yesterday (Monday April 13) but the insects are still there today.
Zoe Jackson saw and photographed them on South Bay along the water's edge down the length of the beach whilst many more were photographed on Cayton Bay.
A close up of the insects on the water's edge on South Bay Scarborough. Picture: Zoe Jackson
Users on Facebook have theorised the bugs may be heather beetles, or cabbage stem beetles, but it is not yet known exactly what they are or why they have appeared in such numbers.
The Scarborough News has asked several experts and awaits a response.
We have also approached Scarborough Council for comment.
Beetles on the water's edge on South Bay Scarborough. Picture: Zoe Jackson
The scene on Cayton Bay. Picture: Jack Dickens
Some of the thousands of beetles on Cayton Bay. Picture: Jack Dickens