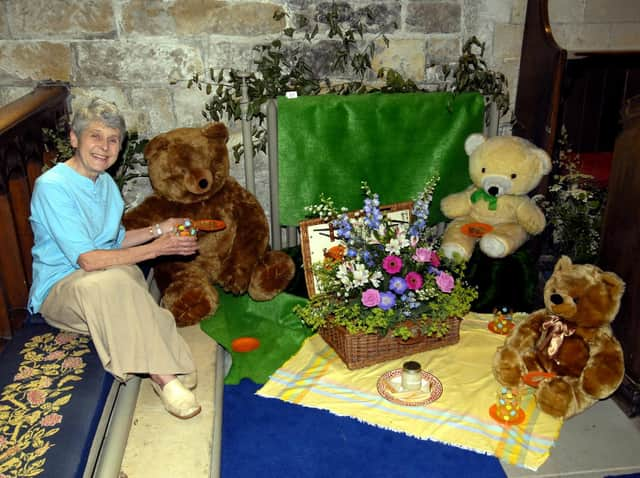 Sheila Coulson in 2016.
Sheila Frances Coulson, who passed away peacefully on Christmas Day, was awarded the BEM in 2016 for services to the community in Hackness.
A much loved Auntie to family both in the UK and overseas, Mrs Coulson was well known in the village, having been involved in a number of local causes for many years.
Born at North Farm, Silpho on January 19, 1935, Mrs Coulson lived in the tiny hamlet until moving to Church Cottage, Hackness in 1963, where she spent the remainder of her life.
Actively involved in the local community, Mrs Coulson could often be seen gathering litter in the village, raising money for local charities and performing her duties as church warden.
Mrs Coulson spent her early career working on the farm, before spending a brief time as school cook, then eventually moving on to become head chef at Hackness Grange Hotel, which she did for approximately 25 years.
She continued to work at the hotel even after she retired, working as a cleaner until the age of 82. She was such a regular there that she became affectionately known as 'Auntie' by both staff and visitors alike.
Niece, Carol Dickinson said: " She was a do-er, if there was a job that needed doing, Auntie would do it.
"She used to raise money for the village hall and led the village carol singers who donated £1,000's to the church. She raised money for the Air Ambulance and always had a collection box on the side for the lifeboat.
"She was just all over in Hackness, she delivered the local magazine and opened and unlocked the church every day.
"She even used to clean the weeds out of the stream opposite the church. There were just lots of little things she used to do that nobody realised.
"My favourite memory of her is when she took part in a fan dance with the other members of the ladies choir, she was just like Corporal Jones, always lost and a step behind the other two!"
"She will be sorely missed by her family and the community around her."
Donations in Mrs Coulson's memory may be made to leukaemiauk.org.uk or ℅ T.L. Chapman and Son Ltd, 19-21 Auborough Street, Scarborough, YO11 1HT.