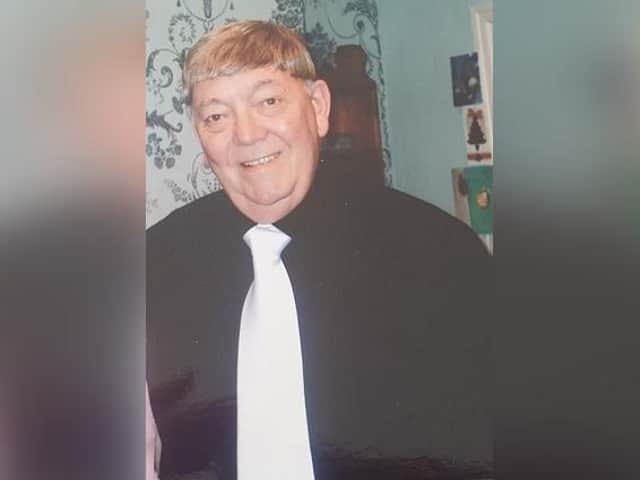 Tributes are paid to Ken Harper.
Kenneth 'Ken' Harper was a popular figure on the Scarborough theatre circuit. He helped backstage at the Floral Hall, the Opera House, the YMCA and then onto the Futurist where he would eventually take on the role of stage door man.
Ken passed away peacefully, aged 85, on Monday January 11.
Ken was born in Ashby-de-la-Zouch, Leics, to parents Emma and Jack, and he was brother to Beryl. He was called up to National Service in the RAF and it was there that a friend he made, called Jim, asked him if he would like to write to his cousin, Celia. Ken said yes, and little did he know at the time, he was about to start writing to his future wife.
Wreath that was laid at the Futurist for Ken, by his family.
The couple went on to be married on January 18 1958 and had their daughter, Julie, in May 1959. The family lived in Hull until 1977, when they moved to Scarborough to take over the running of Ganton Golf Club. This was the start of Ken's long list of celebrity friends, as it was here he met and became friends with Jimmy Tarbuck.
Ken started working in theatre by helping backstage at The Floral Hall, Opera House and YMCA. He used to enjoy taking his granddaughters Abi and Holly to the Susan Richards ballet school at the YMCA, and when the girls danced in shows at the Futurist, he would tell them he was shining the spot light especially on them.
His fellow spotlight operator, Joanne, shared a story Ken told her about his time at the Opera House, when 80s comedian Duncan Norvelle performed during the summer season. She said:
"Ken told me that, during his act, Duncan went into the audience with three red roses. He gave these to three men, and then said, 'If I asked for volunteers to come on stage you would all rush up, just the gentlemen with red roses.
Joe Longthorne was Ken's favourite performer.
"In those days it was traditional for any gags to be played on the last night, and audiences even bought tickets for the last nights show in anticipation of this.
"So, on Duncan's last night, Ken bought many red roses and gave them to men without Duncan seeing, so when the line 'Just the men with red roses" got delivered, lots of men piled onto the stage and Duncan was floored.
"Duncan found it hilarious."
Ken worked on the spotlights at the Futurist, and was well known for his steady hand as he followed the stars around the stage, but it was when he started to work on the stage door that he really started to come into his own.
Ken's grandaughter Abi, with his treasured book of memories.
Described as a polite, caring and respectful man, he was loved by many, and his helpful and personable manner made him popular among the many stars who performed there.
Stuart Loughland, who came to the Futurist with The Chuckle Brothers, recalled a story Ken told him about the time he met Shirley Bassey. He said:
"He told me a story about Shirley Bassey's requirements when she came to the theatre, she required a long list of things which included a particular African Orchid in the dressing room.
"Ken told me he looked everywhere in the Scarborough area, to no avail.
"He then phoned around garden centres, and found one specialist shop in Lincolnshire that had just the one in stock. He went all the way there and bought it, and put it in Shirley's dressing room.
"On the day of her performance he was summoned to her dressing room. He thought something was missing off the list. She invited him in and thanked him so much for everything and said she couldn't believe that he'd gone to the trouble of getting the Orchid. She said normally no one ever gets one and it was just something that her manager had added to the list, but thanked him so much for his trouble."
Ken stayed at the Futurist until the day the doors were finally closed for good, and fought very hard to keep it open. His family said in his eulogy : "We are sure he would have kept the chandelier if he had room for it."
Every time performers came to the Futurist Ken would ask them to sign a book, which the family now treasure. Abi Andrew, one of Ken's granddaughters said: "He always used to tell us stories of all of the celebrities and performers he met, and I am so happy we have this book as a reminder."
Ken was a loving family man, wife to Celia, father to Julie, and as well as being a devoted grandad to Abi and Holly, and to their husbands Scott and Ben, he was also great grandfather to Jack, Harry, Georgia, Bertie and Hugo.
All of the family have wonderful memories of Ken and have set up a tribute page for anyone who knew him to share their memories of him. You can also donate via the link to Dementia UK. Just click HERE