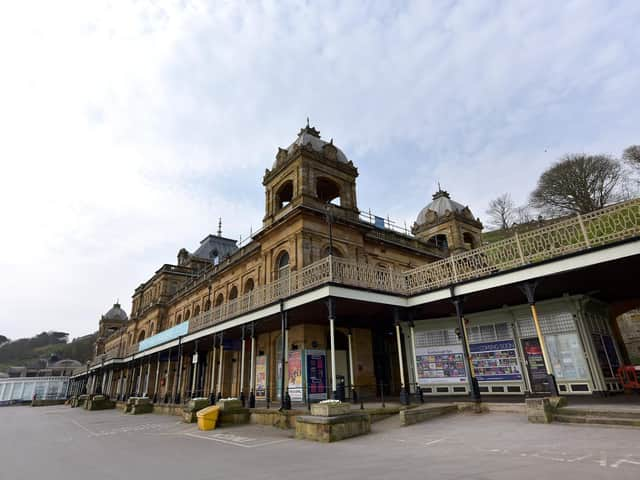 Scarborough Spa is likely to be mothballed until crowds are permitted again
Sheffield City Trust, also known as Sheffield International Venues, looks after 17 facilities in the city including City Hall, Sheffield Arena and Ponds Forge. They also have the contract to manage Scarborough Spa and Whitby Pavilion with subsidies from Scarborough Council.
A large number of concerts and events at the venues have been cancelled and the government has not yet given any indication of when they can re-open.
Sheffield City Trust has confirmed it is exploring staff redundancies and that 'specific issues' with some venues means it may not be able to open them even when given permission to do so.
Chief executive Andrew Snelling said: "Clearly these are very challenging times for all organisations operating in the leisure and entertainment industry as we await government guidance on how and when we can open our venues.
"Sheffield City Trust runs a variety of facilities across sport, leisure and entertainment. It has become apparent that concerts, shows and large attendance events will not be possible in the short and medium term, so this leaves us with decisions to make regarding how we sustain venues such as Sheffield Arena and Sheffield City Hall.
"There are also specific issues with some of our sporting facilities, which means it may not be viable to open them safely even after we receive the go ahead.
"We have written to employees who are affected by the venues they work at being unable to open and explained we have begun a consultation process which may lead to redundancies.
"It is not a decision that has been taken lightly but venues that are generating no income will only need a much-reduced workforce to carry out essential maintenance while they are mothballed awaiting a change in circumstances."
There are also rumours Sheffield Arena and City Hall were closing permanently, which SCT denied.
Last year it was revealed by the local democracy reporting service that trust was 'haemorrhaging cash' and needed to be bailed out by Sheffield Council with more than £7million over the past year.
The Grade II-listed Scarborough Spa is a throwback to the town's past as a fashionable spa destination. It was where the original spa waters could be sampled, and the building includes a theatre, Grand Hall with seating for 2,000 people, promenade lounge and open-air sun court. It is home to the renowned Scarborough Spa Orchestra and hosts the Scarborough Jazz Festival.
The smaller Whitby Pavilion is a Victorian theatre and cinema. It is famous for its association with the Whitby Goth Weekend, which ended in 2019. Both buildings are owned by Scarborough Council.