Scarborough Council affordable homes scheme progresses to next stage
A scheme to build hundreds of new affordable homes in Scarborough is set to proceed to the next stage.
Tuesday, 15th June 2021, 11:11 am
Updated
Tuesday, 15th June 2021, 11:14 am
Earlier this year Scarborough Council revealed it was looking to partner with the private sector in order to meet a shortfall in high-quality homes in order to reduce the borough's housing waiting list.
The authority wants to create a fifty-fifty partnership in a Joint Venture, possibly with a registered social landlord (RSL) to help meet its housing targets.
Currently, just 30 per cent of properties built in the borough meet the Nationally Described Space Standards, which sets out the minimum size of new homes.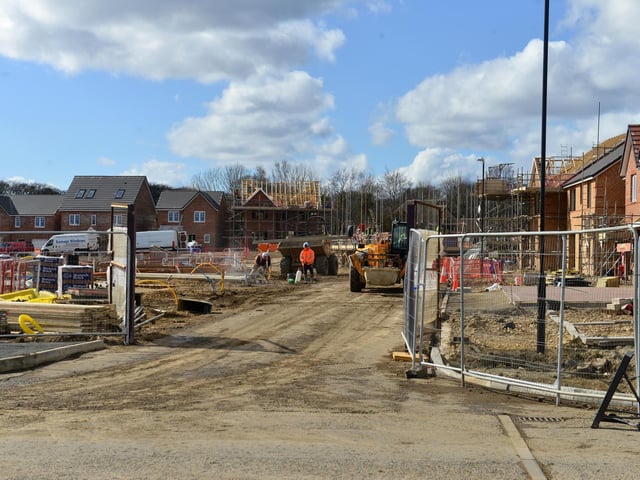 Since 2016 just 110 affordable homes have been built on average each year. Stock image.
The plans are part of the council's Better Homes initiative.
Scarborough Borough Council's Lives and Homes overview and scrutiny committee will meet on Thursday to discuss the business case for the Better Homes project and nine parcels of land that will be included in the scheme.
In March, the council put 12 sites it owns out to consultation in order to gauge interest in the scheme, now nine of them will be taken forward.
The sites included a parcel of land that encompasses two holes of Whitby Golf Club that could provide up to 60 homes.
The average house price in the borough is nine times the local average wage.
Two large areas at Musham Bank in Eastfield are also in the scheme and are earmarked for up to 600 homes.
The sites classed as public open spaces, which will also proceed as part of the scheme include two pieces of land at Rievaulx Road and one in California Road in Whitby. Land at Sandybed Lane and Sandybed Crescent in Scarborough and open spaces in Clarence Drive, Filey and Moor Lane, Newby are also included.
Land at West End View in Cayton and Price of Wales Terrace in Scarborough have been dropped from the proposal following the consultation period.
Last year, the cabinet gave the green light for the scheme which will work with providers of social housing and private developers to address a homes shortage due to the average house price in the borough being nine times the local average wage.
The council estimates that around 220 new affordable homes each year in order to meet the local housing waiting list, which currently stands at around 2,000 households.
Since 2016 just 110 affordable homes have been built on average each year.
Cllr Carl Maw, Scarborough Council cabinet member for stronger communities and housing, said: "There's a huge disparity in affordability between private rent costs and average incomes, so it's vital we tackle this issue.
"However, we can't deliver the number of affordable homes we need across the borough by taking the traditional approach of selling land to developers, or solely through current planning policy.
"Our Better Homes project is an innovative way of tackling this issue by offering 'homes for life' that are cleverly designed in the first place to be adaptable to meet the changing needs of their owners.
"I'd like to thank everyone who took part in the recent consultation for sharing their views."
The council sees the Better Homes project as critical to addressing the borough's shortage of quality housing for local people, which is also affordable.
Approximately 37 per cent of jobs in the borough are paid below the Real Living Wage and around 41 per cent of employed clients of the local Citizens' Advice claim in-work benefits.
Cllr Liz Colling, cabinet member for inclusive growth, added: "We have an excellent record of increasing the supply of affordable homes, but this project will help us go further and faster than we have before.
"We are now at the point where we need to build twice as many affordable homes as we do now. If we don't, we can't meet the needs of our local communities.
"Importantly, working through the proposed joint venture, we can ensure these new homes are constructed to higher environmental standards such as energy efficiency and low carbon heating."
The council estimates the cost of taking forward a procurement process to secure a Joint Venture partner will be £848,000.