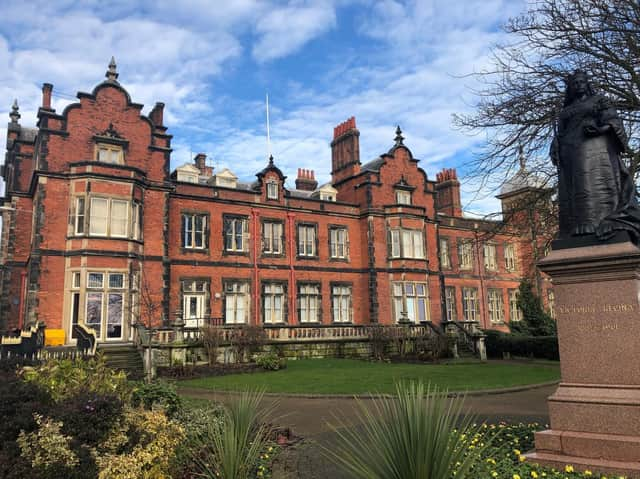 Scarborough Town Hall
Scarborough Borough Council's cabinet today backed North Yorkshire and York's "asks" from a devolution deal, a package of more than £2bn in spending across the region.
Last week, the county's seven district councils, which includes Scarborough Council, were told they would have to be scrapped if North Yorkshire wants devolution, which would bring more powers and spending potential to the county.
Following a meeting with Local Government Minister Simon Clarke last week it is proposed to create one or two combined authorities under a metro Mayor for the county in 2022.
Scarborough Council's cabinet today backed the plan of "asks", which will also be supported by the county's other six district councils, North Yorkshire County Council and City of York Council.
As well as a 30-year Mayoral funding pot worth £750m over 25 years, the submission contains proposals for government funding to be handed over to the county in areas including housing, transport, skills, regeneration and energy.
Schemes include £250m over five years to upgrade transport links across the area and £520m to improve fibre connectivity.
The funding would include £52m for "ultra-low emission" public transport and a further £50m for electric vehicle charging points.
A total of £96m would be invested in a strategic housing project and £215m for a "BioYorkshire" programme.
The devolution document adds: "The importance of BioYorkshire to the resilience, growth and prosperity of our region is amplified in the context of Covid-19.
"We will accelerate a Green economic recovery, create new sustainable jobs and improve resilience in our area through supporting innovative entrepreneurs to start-up companies, enabling Small and Medium Enterprises (SMEs) to scale up their businesses and improving efficiencies of industry through collaborative research."
The cabinet backed the plans, with council leader Cllr Steve Siddons promising to keep both the councillors and the public informed on the developments in the process.
He said: "Work is still ongoing amongst leaders across the whole of York and North Yorkshire on shaping just how this potential devolution deal will come together and I'll keep providing updates on that as we make progress."
Councils in the area have until September to submit their proposals for what the future unitary authority could look like.
Under the present system, North Yorkshire County Council is responsible for education, highways, social care and transport.
The seven district councils are responsible for the majority of planning matters, licensing, bin collections and council tax collections.
York has one council to run all services.
Any of the councils involved in the process can submit a proposal to the government to be considered.
The Government's intention is to make the changes from April 2022, with Mayoral elections taking place in May alongside elections to the new unitary authority or authorities.
If the devolution plan moves forward the county council elections scheduled for next year would be cancelled, as likely would be the elections for the Police, Crime and Fire Commissioner as those responsibilities are presumed to rest with the new elected Mayor.