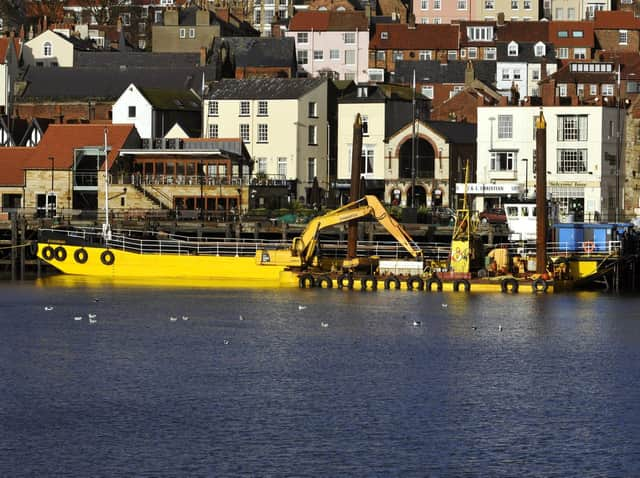 The dredger Sandsend in Scarborough Harbour. Picture: JPI Media
The council's cabinet is being asked to approve a Ship Management Agreement with a third party, which could see the dredger taken to other ports around the coast as a way of creating new income for the authority.
In a report prepared for the cabinet meeting on Tuesday next week, the councillors have been told that finding qualified masters to pilot the dredger, called the Sandsend, has been an ongoing challenge.
The Sandsend dredges Whitby and Scarborough harbours to keep channels open for vessels to use. Annually, approximately 50,000 tonnes and 10,000 tonnes of spoil is removed from the respective ports.
The cabinet report, written by Capt Ian Vasey of Whitby Harbour Office, adds that hiring masters, a highly specialised role, has become more difficult across the country as competition for qualified persons has lead to increased salaries and shortage of candidates.
It states: "Since the previous master left the authority in April 2019 the council has actively endeavored to recruit for this position via advertising in the leading maritime publication/websites and through leading maritime recruitment agencies, without success.
"In an attempt to address the current necessary winter dredging program we currently have a temporary agency master in – situ on a short term day rate basis."
The report adds that this arrangement involves "high costs" and the council still has to pay day rates to the temporary staff even if the dredger cannot operate due to weather conditions.
A number of options were considered, including continuing with the recruitment process, using temporary masters, using a third-party dredging company or, the preferred course of action, entering into a Ship Management Agreement with an outside party.
The report adds: "Within the marine industry ship owners often engage specialised third parties to manage their vessels.
"Such companies place the emphasis on attracting high-calibre and experienced crew and utilise sophisticated ship management techniques. Independently possessing demonstrable specialist knowledge, connections, technical expertise and commercial insight thereby delivering a total management option for the vessel.
"Consideration of this option may achieve an overall solution for both the immediate and long term.
"A suitably experienced company could solve recruitment issues and ensure that our ports dredging requirements are prioritised and achieved.
"Furthermore their experience and knowledge could potentially provide significant opportunities to maximise the use of the vessel, by undertaking external charter work with a resultant valuable revenue stream to the council. This option has not previously been considered or assessed."
The annual budget for the dredger, which was converted from a dumb barge in 2003, is £290,000.