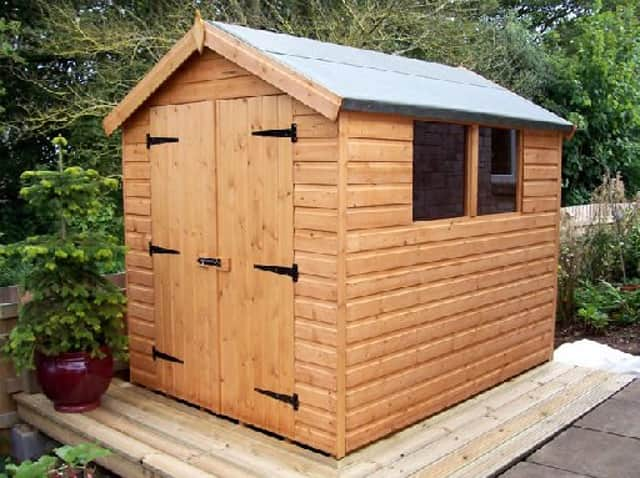 Stuffed, chaotic outbuildings can be a hazard – but some garden experts have shared tips on how to pack a shed effectively for the colder months.
Shed contents could get lost or damaged over winter unless they are properly stored, the specialists at garden furniture retailer BillyOh.com warn.
They urge homeowners to pack sheds up properly, and maximise the 'air space' by using the ceiling and walls.
Ceilings can be used for overhead racks, sliding storage boxes or even horizontal storage pipes to hold long, narrow items.
Shelves are the obvious option for walls, but pegboards, magnetic racks and even fold-down workbenches are all possibilities.
Even bicycles can be stored vertically in a bookcase-like cabinet, or kept in the air space with a ceiling suspension or an elevated bike stand.
Condensation can damage a shed's interior and the contents stored inside it – but insulation and waterproof flooring help to prevent it.
A spokesman for BillyOh.com said: "Sheds get a lot of use over winter for storage, but if they're not packed properly you could find your possessions aren't fit for use by the time summer comes around.
"A lot of people don't realise just how much storage space there is in a shed if you can just be a bit innovative with the air space and vertical storage.
"The shed itself might also need a bit of TLC to keep it insulated, secure and safe against the winter elements.
"A little preparation now will keep all your garden belongings safe and in good condition for you to take out next year."
Ten ways to pack your shed for winter
It can't shelter your possessions if it's not protected itself. Check wooden sheds for termites and leaks, and metal ones for rust and corrosion. You should also look the roof over for mould and dampness, and make sure the shed is insulated with proper flooring and window covers to protect against condensation.
Don't wait for spring to do a clear out. The best way to free up some space is to go through everything and get rid of things you don't need.
There's so much extra storage you can get from the ceiling. Install overhead racks, or fit plywood strips on to the ceiling for sliding storage boxes.
As well as shelving, you can install a pegboard or magnetic rack for tools, or hooks on wall-mounted rails to hold large tools in vertical space. Fold down workbenches create extra space.
Plastic or cardboard tubes can be fixed to the ceiling to hold items such as pipes and pieces of wood.
Try using a towel rack to put up a roll dispenser for bin bags, or use plastic funnels to store and dispense twine.
Put up hooks, straps and baskets
These can go on the walls and door and are handy for holding objects of all sizes.
There are some inspired ways to keep your bike in a shed using minimal space. You could slot it by its top tube between two wall storage boxes, put it upright in a bookcase-style unit, or even get a ceiling mount.
Arrange the shed contents in a way that is convenient to you; perhaps by size, purpose or frequency of use.
It's easy to be lax on shed security, but you're likely to have some expensive possessions in there, so make sure the door has a good lock.