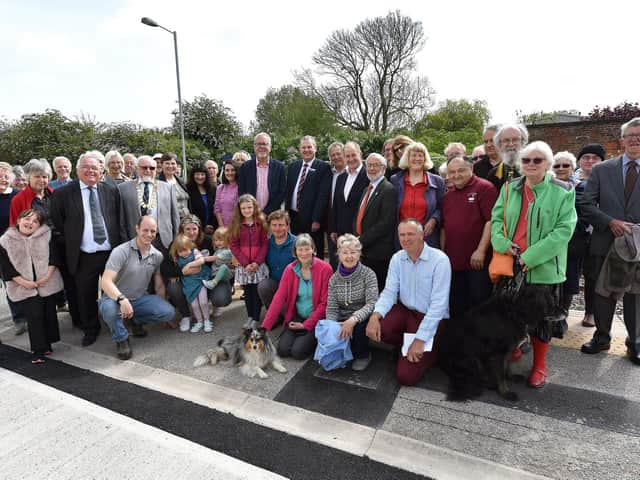 Villagers, business representatives, local councillors and MP Kevin Hollinrake celebrating Hunmanby's improved rail service in 2019.
The Friends of Hunmanby Railway Station fought off strong competition to take home first place in the Small Projects category, sponsored by Community Rail Lancashire, at the 16th national Community Rail Awards, on December 9.
The group were recognised for transforming the appearance of the station to make it a gateway to the village, attracting more people to use upgraded facilities and more regular trains by adding floral displays and artwork created by local school children.
Working in partnership with residents, community organisations, and businesses, the group designed a website to promote attractions alongside the route, and created and delivered 3,000 copies of an easy-to-read timetable and events guide to Hunmanby and surrounding villages.
The project helped to increase passenger numbers using the station by more than 30%, and when Covid-19 hit, the group were praised for adapting their website to include information and advice on how residents could stay safe and well.
Nick Harvey, of the Friends of Hunmanby Railway Station, said: "This award is a tribute to all who have helped get Hunmanby and other stations like Filey and Bempton the best train service in their history, and the people who have used the new train service."
The Community Rail Awards, organised by Community Rail Network, recognise the important, often unsung, work by community rail partnerships, station friends, and other community rail groups across Britain. They shine a light on vital projects across this growing grassroots movement, highlighting community rail's contribution to sustainable mobility, social inclusion, community development, and wellbeing.
The awards were delivered as an online gala evening for the first time with 550 guests, including community rail volunteers, officers, rail industry leaders and government representatives.
Jools Townsend, chief executive of Community Rail Network, said: "Our congratulations go to The Friends of Hunmanby Railway Station, who engaged local people and businesses to promote rail as a form of sustainable and healthy travel, and to bring their station into the heart of the community.
"The Community Rail Awards recognise the achievements and passion of community rail volunteers, groups and partnerships across Britain. Their tireless efforts connect local people with their railways and stations, bring communities together, and enable more people to access sustainable travel. This contributes to greener, healthier, happier communities, and promotes wider access to opportunity. This couldn't be more important right now.
"We will be holding up this brilliant example from Hunmanby nationally, to inspire more communities to engage positively with their railways and take advantage of sustainable travel."
County Councillor Don Mackenzie, Executive Member for Access, said: "Well done to the Friends of Hunmanby Station on their success in the National Community Rail Awards. It reflects the tremendous efforts of people across the community, as well as local partners and the rail industry in a truly collaborative project, and we are pleased to have been able to give our support.
"The growing number of people using Hunmanby Station is clear evidence that the time and effort put in by everyone are paying off now and will continue to do so."
Cllr Liz Colling, Scarborough Borough Council Cabinet Member for Inclusive Growth, said:
"We are proud to support the Friends of Hunmanby Railway Station and would like to congratulate them on winning a Community Rail Award.
"Improving public transport helps to reduce carbon footprint and is vital for maintaining thriving communities, especially when communities are some distance from main towns.
"The friends have always championed these important reasons. They have been instrumental in the transformation of the station, the fight for additional services and encouraging local people and visitors to use the station. We wish them continued success."