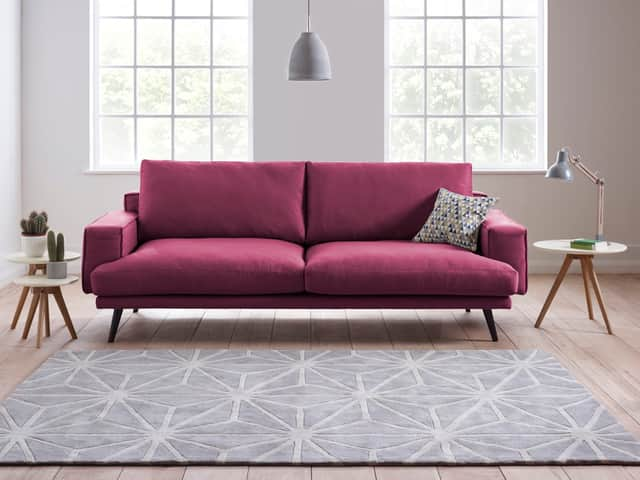 Dusky is the new pale. Confident, smoky, mature Peardrop Pink, offers a grownup alternative to Millennial Pink and the perfect way to perk up your interiors for winter. Tap into the trend by zoning in on a statement sofa, and pair it with neutral or monochrome accessories to really make the colour pop. Living It Up's range of upholstered sofas are available in a wide spectrum of colourways, but it's the Peardrop Pink that packs a punch this season.
With its wide shape and funky armrests, Theo is an unapologetically retro sofa that is brought up to date with a strong composite frame and precise hand finishing. Its design features large, plush cushioning, helping it to reach the heady heights of peak comfort.
Imogen is an opulent sofa that will add a great amount of luxury to your home. Generous in its size and modern in its profile, great care and craftsmanship is seen throughout Imogen's design and this is showcased in the sofa's strong frame and stylish metallic feet.Handcrafted to order, Imogen is an unrivalled example of a modern luxury sofa.
For timeworn trad appeal, look no further than Living It Up's Isaac Sofa. The Isaac's flowing curved armrests give this sofa an elegant art deco touch. An ideal sofa to get lost in, Isaac's large padded cushions and soft upholstery provide the utmost comfort and luxury.
The detailed piping and rich European fabrics make Isaac the perfect combination of style and comfort, pair with an Isaac armchair for a classical look. The Peardrop Pink upholstery on the Isaac gives the sofa an intriguing juxtaposition of styles old and new.
Prices: Theo Sofa - Peardrop Pink: £1080Imogen Sofa - Peardrop Pink: £895Isaac Sofa - Peardrop Pink: £895