90s life in Scarborough - see if you are on these pictures
We turn back the clock to see who made the news in Scarborough in the 1990s.
Thursday, 21st November 2019, 5:32 pm
Updated
Thursday, 21st November 2019, 5:59 pm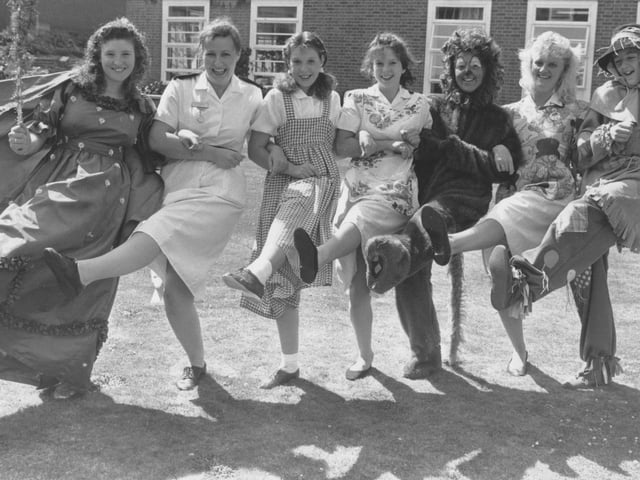 The cast of the YMCA's Wizard of Oz paid a visit to Scarborough Hospital Children's Ward in August 1990. From left, Jane Lazenby as Sorceress of the North, ward sister Helen Barrett, Stacey Morley as Dorothy, nurse auxiliary Wendy Belshaw, Joanne Porter as Lion, playworker Tracey Cleminson, David Nicholson as Scarecrow.
While at a parents open evening at Filey School in November 1997, junior school pupil Tony Brownlee, centre, joins in with some maths work with pupils Kayleigh Craven, Hazel Wilson, teacher Nick Cresswell, pupil James Whitaker, and Tony's sister Sheila Brownlee.
Overdale School kitchen staff smile on after a fire in their kitchen broke out back in December 1996. From left, Maggie Berry, Pat Anderson, Marilyn Close, Elaine Edmonds.
Former pupil Mrs Margaret Smith is pictured at Hinderwell School in October 1992. Margaret showed some of the young classes what it was like to be at the school in 1932. Pupils, left to right, Thomas Edwards, Lee Temple, Amanda Cracknall and Emma Kendrick.
Graham School caretaker Fred Petch, who was to take a leading role in the school's forthcoming drama production in March 1994, is pictured with other cast members Katie Hardy, left, and James Cross.
Pictured are Northstead School girls soccer team in October 1996. Back, left, Jodie Harriman, Toni Jordan, Leanne Lynch, Jenna Watts and Ruth Griffiths; front, left, Donna England, Lisa Smith, Maxine Denton and Samantha Denton.
Pupils of St Augustine's School became the first to raise cash for Tyke the Superdog back in June 1995 with their breaktime biscuit sale.
YMCA Theatre School students, from left, Kevin Proctor, Joe Tate and Sarah MacGregor improvise a scene set in a car back in July 1996.