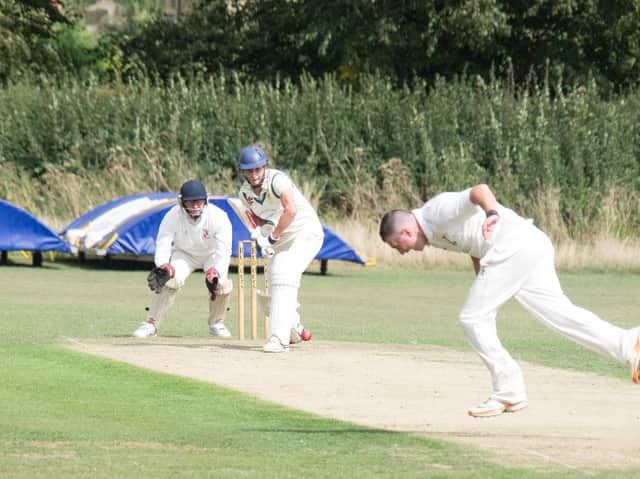 Will Bradley's unbeaten 53 steered Ganton to victory
Wold Newton looked to be in control at tea, having dismissed the hosts for 125 in 44.5 overs, Tom Southwell bagging 3-5.
Michael Kipling (4-9) and Rob Holt (3-19) then helped skittle Newton for 69 in 33.3 overs.
Ben Hogarth's 4-9 helped Fylingdales to an eight-wicket win at home to Ebberston 2nds.
Reece Milner's 54 was the star of the visitors' 107 all out.
Dylan Humble hit 40 and Oliver Lane 26no to seal the win for the home team.
Daniel Gregory hit 47 not out and Stewart Ward 36 as Scalby 2nds eased to a seven-wicket success at Wykeham 2nds.
Grosmont earned a shock 44-run win at promotion-chasing hosts Seamer & Irton 2nds.
Charlie Parker smacked 64, Arran Liddle 61 and Gary Ludlam 35 as the visitors hit 217-4.
In reply, Seamer were all out for 173 despite skipper Joe Tiffany's 66.
Liddle capped a fine all-round day with 3-21 and Anthony Clarkson took 4-34.
Ganton had a six-wicket victory at home to Mulgrave 2nds.
Greg Cousins bagged 3-12 as Mulgrave limped to 100-9, last-man Andrew Spenceley top-scoring with 22 not out.
Will Bradley's unbeaten 53 then sealed the win despite 3-26 from Ben Duell.
Filey 2nds kept their cool to snatch a five-run triumph at Malton & Old Malton 3rds in Division Three.
Lee Plant's 63 proved vital as Filey posted 139-6 in 40 overs.
Ross Harland's 30no and 29 from Will Schofield kept Malton in contention, Nathan Vernon bagging 3-52 as Malton hit 134-9.
Leaders Scarborough Rugby Club won by 51 runs at Nawton Grange 2nds.
Joe Lenton's 46 steered the visitors to 162-8, Nathan Marwood bagging 3-33.
Anton Wessels' 38 gave Grange hope as they sank to 112 all out, William Kelly, Mark Tennant, Mark Kelly and Brett Canham taking two wickets apiece.
Ravenscar are in second after their 24-run win at Muston.
Great Habton 2nds kept themselves in the promotion mix with a six-wicket win at Folkton & Flixton 3rds.
Jordan Allanby took 3-12, Macauley Gibson 3-25 and Harvey Wood 3-19 as Habton skittled Flixton for 72.
Skipper Dan Walker's 32 not out wrapped up the win after Habton lost four early wickets.
Bri Leckenby's 69 not out guided Pickering 3rds to a six-wicket victory at home to Glaisdale on Sunday.
Eddie Cook, Liam Welburn and Keith Barber took two wickets each as Glaisdale were dismissed for 128, Graham Featherstone scoring 34 and Tom Glasby 28.
Leckenby and George Hodgson (25) wrapped up the first league win for the Pikes.
Jack Waud was the all-round ace as Division Four leaders Flamborough bagged a one-wicket win at Brompton 2nds.
Waud took 4-32 as the hosts were all out for 127, opener Robin Siddle top-scoring with 50.
Alex Bennett's 5-47 gave Brompton hope of victory despite Mark Abram's 29 and Luke Dixon's 25, but it took 17no from Waud to edge Boro home.
Brid 3rds' fine start to the season came to a crashing halt at promotion rivals Goathland.
Liam Calvert's 68 led Goathland to 144 all out, Carl Parkin taking 3-39.
Liam Calvert then took 3-5 and Aron Calvert 4-10 as Brid slumped to 61 all out.
Sherburn 2nds are still in the promotion race after their 35-run home success against Malton & Old Malton 4ths.
Scott Johnson (3-13) and Ethan Smith (3-19) helped Malton dismiss the hosts for 81.
Nick Dobson's 3-1 and Chris Crawford's 3-13 then sent Malton crashing to 46 all out.
Dan Boyle's superb spell of 6-20 steered Forge Valley 2nds to a 62-run home victory over nine-man Scalby 3rds.
Bekir Kaya hit 35no sand Jeff Ionascu 24no in Forge's 102-9, Max Hesp scooping an excellent 5-16, but Boyle then sent Scalby crashing to 40 all out.
Jon Murrell's 5-22 steered Ravenscar 2nds to a seven-wicket win at home to Wykeham 3rds.
Antony White also took 3-26 as Wykeham were all out for 65, Jish Rewcroft's 36no sealing the win for Ravenscar.