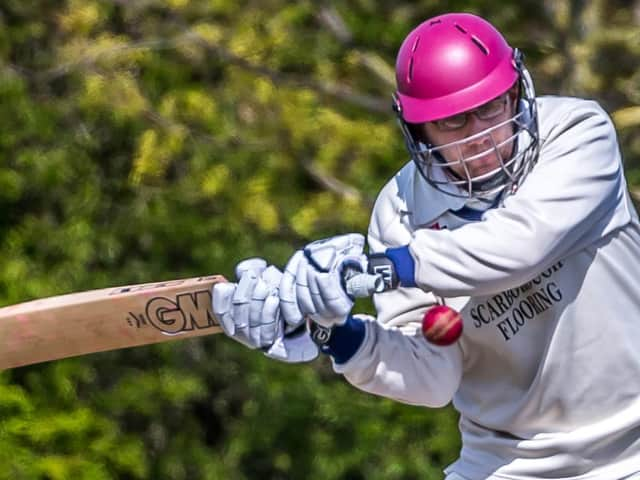 George Shannon in batting action for Wykeham 2nds at Mulgrave 2nds PHOTO BY BRIAN MURFIELD
The visitors batted first and posted 166-5 from their 45 overs, George Shannon top-scoring with 37 from 107 balls, Balraj Balachandran adding 23 not out, Scott Wardman 23 and Chris Kirkham-Knowles 19. Nick Gibson was the top home bowler with 2-29.
Balachandran and Ian Thompson then took two wickets each to give Wykeham hope, but Chris Spenceley's 57no and 32 from Ben Hinchley secured the win with 170-5 from 36.4 overs.
Ebberston 2nds claimed a 49-run home success against 10-man neighbours Snainton.
Mulgrave 2nds v Wykeham 2nds Photo by Brian Murfield
Fine batting from Jake Finnegan (54), veteran Mike Horsley (47), Joe Dunnett (41no) and skipper Jordan Welford (25) guided the hosts to 229-6.
Steve Eyre and Mike Kipling took two wickets each for Snainton.
In reply, openers Kipling (61) and Mike Eyre (58) gave Snainton a solid start but they only reached 180-4 from 45 overs, Sam Hardie taking 3-33.
Scalby 2nds eased to a seven-wicket victory at Grosmont.
Mulgrave 2nds v Wykeham 2nds Photo by Brian Murfield
Nathan Barber took 3-19, and Tom Hendry and Joe Childs two apiece as the hosts posted 138-8.
Chris Pickering hit 37 and Charlie Parker 28 for Grosmont.
An opening stand of 112 between Lee Kerr (55) and Gareth Edmunds (59no) wrapped up the win for the visitors, as they won with 22.2 overs and seven wickets to spare, Stuart Knaggs was the top Grosmont bowler with 2-33.
Seamer & Irton 2nds eased to a 177-run triumph at home to Ganton.
An opening stand of 102 between wicketkeeper Darrol Lewis (67) and skipper Joe Tiffany (75) got Seamer off to a flying start, Lewis smashing seven fours and three sixes and Tiffany blasting 14 fours and three sixes.
Cameos from Tom Greenwood (25) and Dave Lawty (35) kept the momentum going as Seamer racked up an impressive total of 253 all out from 44.4 overs.
Greg Cousins snapped up 3-53, while Ian Cousins, James Richardson and Tom Pick also took two wickets each for Ganton.
Skipper Dan Reardon was then the only Ganton batsman to impress, as his 30 dominated a reply of 76 all out in 24.4 overs.
Pick (15) was the only other away player to reach double figures in the face of fine bowling from Luke Horton (3-24), Callum Metcalf (2-14) and Laurence James (2-14), with Tiffany and Greenwood also bagging a wicket apiece.
Fylingdales strolled to an eight-wicket success at Wold Newton.
Koppy Harrison hit 20 and tail-ender Stephen Atkinson 17 as Wold Newton limped to 95 all out in 30 overs.
Justin Mayne claimed 4-28 and Taylor Humble 3-7 for Dales, Chris Hurworth also taking two wickets..
Opener Robert Tucker struck 37 not out and Oliver Lane 36 not out as the away side eased to a winning 96-2 from 18.2 overs.
Ciaran Bartram snapped up 5-16 as Ravenscar eased to an eight-wicket home win in their first Division Three game of the season against Nawton Grange 2nds.
Opener George Bentley (25) was the only Grange batsman to impress as they slipped from 30-0 to 92 all out,
Midhunsingh Vijayasingh (34no) and Joe Bayes (33) then secured the win.
Glaisdale wrapped up a seven-wicket win at Great Habton 2nds.
Vernon Smith (34) and Jack Stockdale (38) were the only home batsmen to make headway in the face of canny bowling from Glaisdale, Tom Wardell scooping 4-8 from his four overs.
Ben Thompson's 67 and William Burtt's 51 not out sealed the win for Glaisdale.
Kyle Orange and Tom Sanders were the all-round stars as Muston claimed a 67-run triumph at Scarborough Rugby Club.
Skipper Orange hit 44, Sanders 44no and Max Truleove 32 as they were all out for 177, William Kelly bagging 4-51 and Brett Canham 3-25.
Mark Shippey hit 27 as the hosts slipped to 110 all out, Orange and Sanders scooping three wickets each.
On Sunday, Filey 2nds eased to an eight-wicket win at nine-man Pickering 3rds.
George Hodgson hit 44, Tony Evans 28 and Keith Barber 26 as Pikes were 124 all out, Ben Robson taking 5-34.
Dave Pooley's 37 made sure of the Filey win.
Forge Valley 2nds edged a one-wicket win at home to Scarborough 3rds in Division Four.
Daniel Boyes took 5-39 as Scarborough were all out for 138, Jack Ingle scoring 41.
Skipper Steve Boyes then scored 50 in reply as 10-man Valley edged home.
Mark Sayers' five-wicket haul and Jes Riley's 50 helped Cayton 3rds to a four-wicket win at Scalby 3rds.
Sayers took 5-28 as Scalby were all out for 110, then Riley's 50 saw Cayton home despite three wickets from Adie Hollingsworth.
Brompton 2nds eased to an eight-wicket success at Wykeham 3rds.
Veterans Chris Soulsby (32) and Robin Shepherdson (27) led the way as Wykeham reached 126-6 from 40 overs, Gary Newton taking 3-26 for the visitors.
Ben Atkinson hammered 58 not out and Jay Wilson 36 not out to wrap up the victory for Brompton.
Goathland cruised to a 145-run win at home to Malton & Old Malton 4ths, while Bridlington 3rds secured a four-wicket triumph at Thornton Dale 2nds.
Ganton 2nds conceded their game at home to Flamborough.
On Sunday, Sherburn 2nds won 97 runs at home to Ravenscar 2nds thanks to a cracking 112 not out from Ash Oldroyd.
Skipper Matthew Lickes retired not out on 54 for Sherburn and Connor Miles added 39 as they piled on 239-6 from 40 overs, Gerald Smith taking 4-57.
Smith also top-scored with 38 in reply as Ravenscar limped to 142-5, Pete Wannop hitting 24, Robin Worthy taking three wickets.