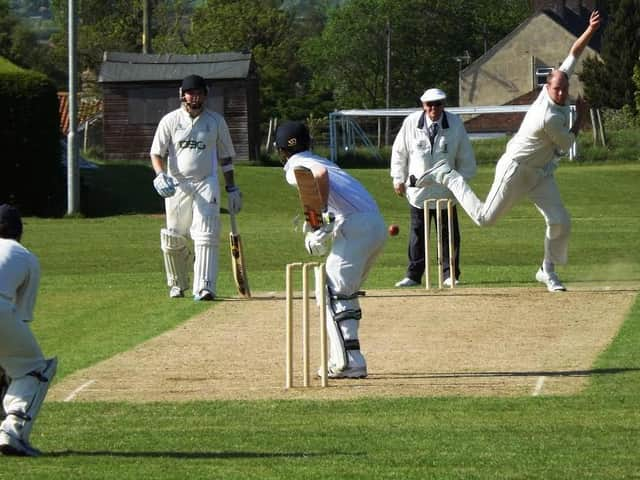 Tom Bumby, above in bowling action, hit 27 in Heslerton's win
Fine knocks from Connor Stephenson (41), Harry Walmsley (34) and Jack Walmsley (29) steered the hosts to 130-9, Adam and Matty Morris bagging three wickets apiece.
Archie Graham's 44, allied to Gregg Chadwick's 26, gave Seamer hope of victory but Charlie Colley's superb 4-8 and Noman Shabir's 3-22 dismissed them for 118 to put Flixton second above Seamer.
Heslerton are now two points clear at the top of the table after their eight-wicket win at home to Ebberston.
Alex Machin's 59no from 38 balls helped the visitors to 119 all out, Ryan Gaughan taking 3-35.
Opener Rob Middlewood (53no) and skipper Tom Bumby (27), along with 18no from Gaughan, fired Heslerton to the win.
Jack Holt's 85 failed to save Wykeham from a four-wicket loss at Filey.
Holt smashed six sixes and seven fours in his 49-ball knock as the visitors posted 132-4, then Josh Dawson's 48 laid the foundation for the hosts to secure victory in 11 overs.
Staxton defeated hosts and fellow strugglers Cloughton by eight wickets to climb off the foot of the table.
Duncan Brown struck a magnificent 90 and teenager South African all-rounder Breidyn Schaper 71 as Scarborough stormed to a 93-run home success against Ganton in Division B.
The North Marine Road club posted 206-4 and Ganton then were dismissed for 113, Charlie Parker bagging 3-22 and Tom Bussey 3-27.
Sherburn claimed a three-wicket win at Brompton despite a fine all-round display by Tom Fletcher-Varey.
Tom Bruce scored 37 and Fletcher-Varey 25 as the hosts reached 111-6, Ashley Oldroyd taking 3-31.
Jack Pickard's 46 gave Sherburn a solid start, but Fletcher-Varey looked to be swinging the game back in Brompton's favour but the visitors edged home.
Folkton & Flixton B cruised to an 81-run success at Seamer B.
Freddie Gunning hammered 62no and Harry Gunning 30 as the away side made 153-5, and Elliot Hatton's 3-4 then saw Seamer skittled for 72.
Mike Linsley's stunning 101 helped Division C joint-leaders Snainton to a six-wicket win at Scalby B, despite Brad Walker's excellent unbeaten 94 for the hosts.
Dave Holborn hit 26 and Tim Barton 30 in support of Walker as they posted an impressive 181-2, Walker smacking 12 fours and four sixes in his 51-ball innings.
Linsley then grabbed the game by the scruff of the neck, smashing 16 fours and one six in his 61-ball stay, fellow opener Luke Smith adding a rapid 51.
Rich Ward's 60 helped Ebberston to a 42-run home win against Ravenscar.
Aaron Virr also added 36no as the hosts scored 145-3, and then George Hardie bagged an excellent 5-14 and David Hebron 3-30 as Ravenscar were all out for 103 despite cameos from Adam Graham (26) and veteran Will Warwick (25).
Forge Valley won by 13 runs at home to Cayton.
Sean Pinder hit 24 as Valley posted 88-9, Shaun Topham taking 3-19 as Cayton slipped to 75 all out.
Flixton 130/9 (C Stephenson 41, H Walmsley 34, J Walmsley 29, A Morris 3/13, M Morris 3/40) bt Seamer 118 (A Graham 44, G Chadwick 26, C Colley 4/8 N Shabir 3/22) by 12 runs
Heslerton 120/2 (R Middlewood 53*, T Bumby 27) bt Ebberston 119 (A Machin 59) by 8 Wickets
Filey 136/6 (J Dawson 48) by Wykeham 132/4 (J Holt 85) by 4 wickets
Staxton 119/2 bt Cloughton 116/5 by 8 wickets
Sherburn 114/7 (J Pickard 46, T Fletcher-Varey 4/21) bt Brompton 111/6 (T Bruce 37, T Fletcher-Varey 25) by 3 wickets
Scarborough 206/4 (D Brown 90, B Schaper 71) bt Ganton 113 (W Bradley 25, Charlie Parker 3/22, Tom Bussey 3/27) by 93 runs
Flixton B 153/5 (F Gunning 62*, H Gunning 30) bt Seamer B 72 (E Hatton 3/4) by 81 runs
Forge Valley 88/9 (S Pinder 25) bt Cayton B 75/ (S Topham 3/19) by 13 runs
Snainton 184/3 (L Smith 50, M Linsley 101) bt Scalby B 181/2 (D Holborn 26, T Barton 30, B Walker 94*) by 6 Wickets
Ebberston 145/3 (R Ward 60, A Virr 36*) bt Ravenscar 103 (A Graham 26, W Warwick 25) by 42 runs
Muston 98/7 bt Forge Valley B 66/6 by 32 runs.