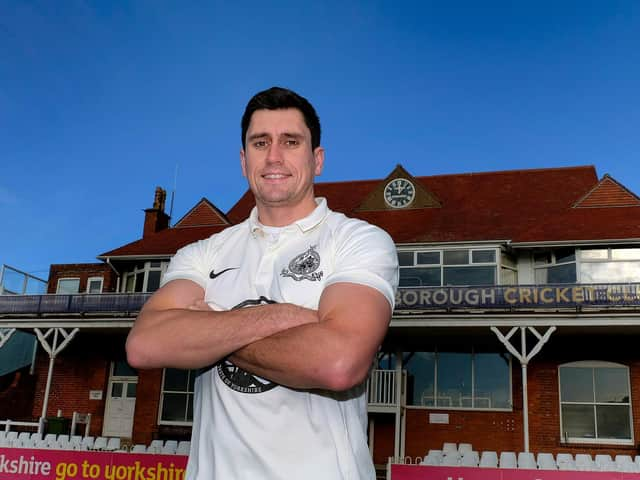 Scarborough CC skipper Pat Roberts
Roberts' first season at North Marine Road was affected heavily by Covid-19 and he's hoping that the upcoming season will be a lot more positive.
"I'm hoping that this season will be much better and that we will get a lot more cricket in," Roberts said.
"Everyone is in the same boat at the minute with winter nets on hold at the moment, so the lead up to the season will be very interesting.
"It's just going to be a case of following the rules and regulations that are put in place from the facilities and seeing when they will allow us to return.
"We're all hoping for a bit of positive news and that the season will get to go ahead."
Scarborough 1st XI will open their Yorkshire Premier League North account with a trip to Yorkshire Academy followed by a home clash with Stamford Bridge and the wicketkeeper batsmen is expecting a tough start.
"It's going to be a really good opportunity for us to see where we're up to as a squad and there's no better place to start," he added.
"I'm confident that the lads will be hungry to play again and looking forward to joining up with the squad.
"With the fixtures having been released, we know it's going to be a tough season but we have to prepare to the best of our ability."
With the continued threat of losing players from the game, Roberts believes that it's vital that we get a season in to continue the growth of the sport.
He added: "Last season was obviously disappointing on many levels and having spoken to quite a few friends it does feel like a make or break time for the sport.
"On the other hand, you might find that people are still really hungry to play and will return stronger and hungrier than before."
Scarborough 1sts 2021 Fixtures
April 24 v Yorkshire Academy (a)
May 1 v Stamford Bridge (h)
May 31 v Clifton Alliance (h)
June 12 v Driffield Town (a)
June 19 v Sheriff Hutton Bridge (h)
June 26 v Clifton Alliance (a)
July 3 v Yorkshire Academy (h)
July 10 v Stamford Bridge (a)
August 14 v Woodhouse G (h)
August 21 v Castleford (a)
August 28 v Driffield Town (h)
August 30 v Dunnington (a)
September 4 v Sheriff Hutton Bridge (a)