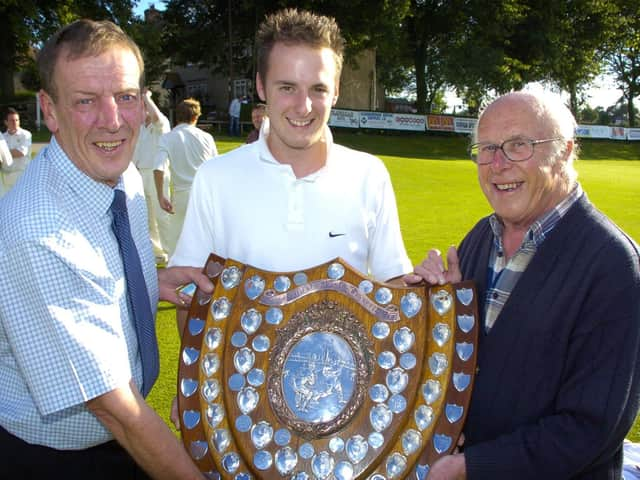 Staxton Cricket Club stalwart Edwin Cooper, pictured right, passed away last weekend
Edwin had served his home club in a variety of roles since the mid-1950s, including president and first-team scorer, playing a major role in the club's development in the post-war period, including their ground move.
He was also a vice-president of the Andy Hire Scarborough Evening League.
They Tweeted: "We are deeply saddened to hear the news of the passing of League Vice President Mr Edwin Cooper. A hugely respected member of @StaxtonCricket but also a genuine, avid cricket supporter. Our thoughts & prayers are with his family, friends & those within the club."
Staxton Cricket Club also Tweeted: "Sad news from the club that Edwin Cooper has passed away.
"He has been a major factor of our club's post war development, including ground move, clubhouse building and 1st XI scorer for a long time.
"Our thoughts and sympathies are with his family and friends."
Former Staxton CC players also paid tribute to the club stalwart on Twitter.
Ian Philliskirk Tweeted: "Really sorry to hear this! I lovely man, he was so kind and friendly to me as a young player and was always genuinely interested in how you were! RIP."
Daniel Philliskirk also commented on Twitter: "Sad news. He was one of the friendliest people you could meet."
Richard Webster added: "Top bloke will be sadly missed . Rip."
Whitby Cricket Club also added their condolences.
"Condolences from Whitby CC, our deepest sympathy to Edwin's family and friends he was a great man who we remember fondly #cricketfamily."
Seamer & Irton Cricket Club's Steve Richardson also Tweeted: "Such a sad loss for both Staxton CC and local cricket. He will be sadly missed. Rest in peace Edwin, a lovely man."