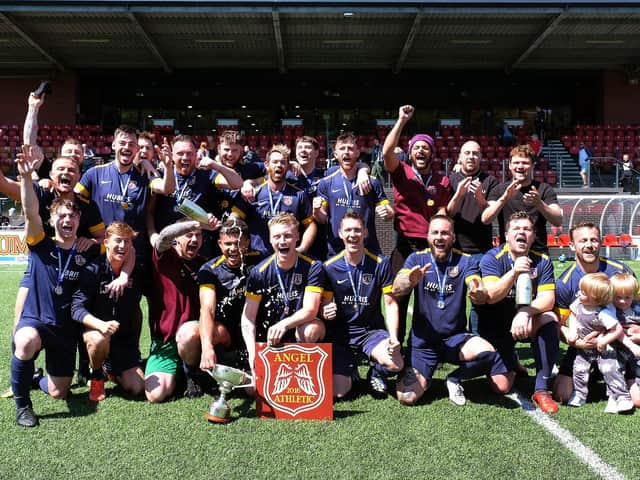 Angel won the Challenge Cup final against Traf Photo by Richard Ponter
Jones said: "I feel we just smothered them from the off and were the far better team.
"We defended well, our middle three of Danny Anderson, Joe Gallagher and skipper Lloyd Henderson were phenomenal.
"I don't feel we were truly under much pressure and the scoreline reflected this.
"Jackson Jowett and George Walmsley are, when on their game, unplayable and have such frightening pace which I think they couldn't deal with, having prolific goalscorers like Danny Collins to come in when needed to change things makes my job easy.
"All the lads have been amazing this year with Covid and have been really committed and raring to get back playing.
"I think that this was probably our most dominant display ever. We look forward to next season now and retaining the trophy.
"After the lockdown Sunday highlighted how much local football means to a lot of people, so now I hope the council will get behind improving local facilities and help the sport thrive once more again.
"It was such a good day for all involved and I'd like to thank Paddy Parke and the Scarborough Sunday League committee for helping on the gate.
"Raising nearly £400 for the Oddballs charity which highlights and helps with testicular cancer is just brilliant."
Trafalgar boss Mike Barker added: "We were well beaten. They were the better team by miles, we just didn't turn up and they deserved it.
"Our keeper Ben Rowe was the man of the match for us."