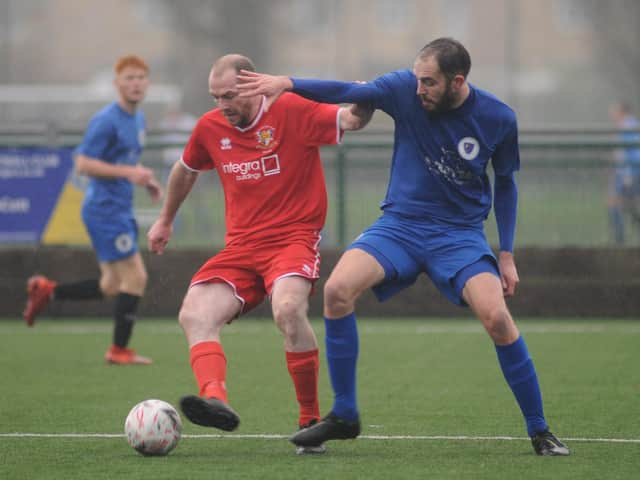 Brid player-manager Brett Agnew Photos by Dom Taylor available to order by Emailing [email protected] or on Facebook at DT Sports Photographs
Town, along with Liversedge and Yorkshire Amateur, were offered a place in the new division as part of the FA restructure based on their combined points-per-game records for the 2019-20 and 2020-21 seasons, both of which were curtailed by the Covid-19 pandemic.
Agnew said: "We don't even know what teams we will be up against yet in the new division, I think we find out on May 17.
"It is great to be able to give the volunteers and fans who have backed the club over the years a new challenge, and it is also a fresh challenge for myself and the rest of my management team as well as the players too.
"We have been having meetings with chairman Pete Smurthwaite since we were offered the chance to go up, and after the latest one between him and myself we have an agreement in principle for me, Ant Bowsley, Joe Lamplough and new coach Alex Davidson to be in charge for next season.
"We have put together some figures for the players and ourselves for the new season based upon the extra travel and time we will be putting in in the new division as it looks like it may well be a North West division involving very long treks to the likes of Kendal and Workington.
"We will wait to see what Pete says and then we can hopefully move forward with our plans."
The player-manager has admitted he has already been in touch with several prospective new signings as well as some of the players who helped Town gain promotion.
Agnew added: "I have had a chat with a few new lads and also with the existing players but understandably they are weighing up a lot of things before they can get back to me.
"A lot of them will have been made a few offers and will need to make decisions."
There will also be a re-organisation of the management team at the Queensgate-based club for the 2021-22 season.
Agnew added: "Lamps (Joe Lamplough) will be coming in as assistant manager next season as Bows (Ant Bowsley) is not able to get to every game due to his job.
"Bows will still be a coach and part of the set-up but Lamps can be there every game, I had a chat with Bows and he fully understands.
"We will also be bringing in Alex Davidson, the brother of midfielder Pete Davidson, as a coach, and he has a wealth of experience at non-league level and gets on very well with the lads.
"We have kept training throughout the Spring with the sevens sessions once a week to keep everyone going, nothing too intense but keeping us playing, and now it is great for the lads to have this target of the new season to set their sights on.
"Lamps is pushing hard to get fit for playing action this season and with all the running I have been doing I have got myself in good shape so we will also help boost the squad, though I see myself mainly only as cover for the strikers whereas Lamps, when match fit, probably has the most ability in the squad.
"There is a real buzz about everyone now that we know what we are aiming at, it has been a very tough year or so for everyone, players, coaches, volunteers and fans due to Covid-19 but now there is light at the end of the tunnel."
Agnew is also looking forward to the pre-season friendlies, with more matches set to be added to three games in July against North Shields, Tow Law Town and Hull City Academy.
The player-manager added: "We are looking to get some more games sorted out and there is also the Scarborough Athletic annual match for the David Holland Memorial Trophy, which may well have to be a midweek game as the summer weekend fixtures are filling up fast.
"Pete already had the three Saturday games in July lined up, but he is also keen to get a big game lined up for the official opening of the new clubhouse."
Agnew admits that the decision to promote themselves, Yorkshire Amateur and Liversedge made a lot of sense.
He added: "There was a lot of common sense rewarding the teams for their efforts over the two season which were not completed.
"The three teams were there on merit and it says a lot that not a single club looks to have complained about the decision to move us all up to this new division in the Northern Premier League at Step 4.
"I have a strong feeling that Yorkshire Amateur could easily become the 'new South Shields' and move up the non-league pyramid rapidly.
"I have got a lot of respect for Craig (Ogilvie) and Neil (Sibson) and what they have done there.
"From my point of view it will also be nice for Bridlington Town to take on different teams and go to different away grounds, and I am sure the fans will also enjoy that side of it too."