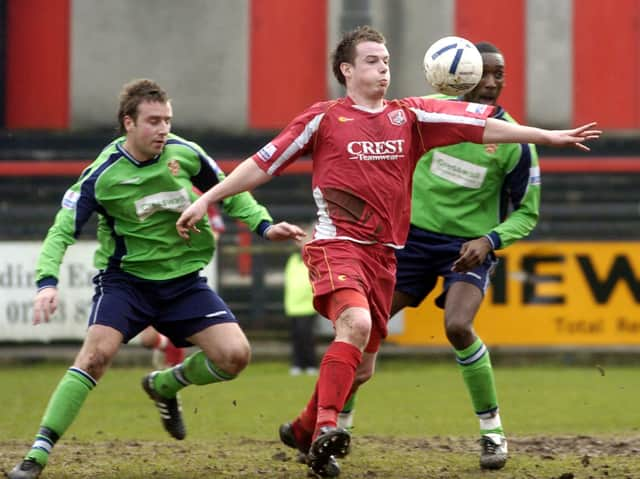 Jamie Vermiglio in action for Scarborough FC.
The Magpies are due to face the Rams at Victory Park in the third round of the FA Cup, a match which will be screened live on BTSport with a 12.15pm kick-off.
Under normal circumstance , Vermiglio's men would be huge underdogs heading into the match against the Championship outfit.
County are a big name and were once crowned English champions in 1974 under Brian Clough before going on to reach the European Cup semi-finals the year after.
Chorley boss Jamie Vermiglio celebrates at the final whistle during the FA Cup First Round match between Wigan Athletic and Chorley last November
In terms of the FA Cup, they were winners in 1947 and have been in the final a further three times.
Under the management of former England and Manchester United striker Wayne Rooney, the Rams would have arrived in Lancashire as the overwhelming favourites to progress.
However, the tie has a different feel to it after a Covid-19 outbreak at Pride Park means that Rooney and his entire first-team squad, plus backroom staff, are expected not to travel as they are isolating.
It means County are set to fulfil the fixture by sending a team comprising of young players from their Under-23s and Under-18s squads.
Ironically, Chorley – minnows in comparison to the majority of the other clubs left in the competition – could begin their first ever third-round FA Cup tie as the favourites to progress.
However, Vermiglio is refusing to look at it that way, insisting his men are still the unfancied side.
"I think it will be tough," said Vermiglio.
"Any Under-23s side – whether that's from a Premier League, Championship or League One club – will have good footballers playing for them and some of them will be Under-23s internationals.
"These players, with the greatest respect to ours, should still be favourites to come here and beat us.
"They should be technically a lot better than us , they should be fitter than us and more athletic and stronger.
"They are on full-time programmes coming up against players like ours.
"Don't get me wrong our players will be well up for it and will fancy their chances, but Derby County will still be favourites without a shadow of a doubt."