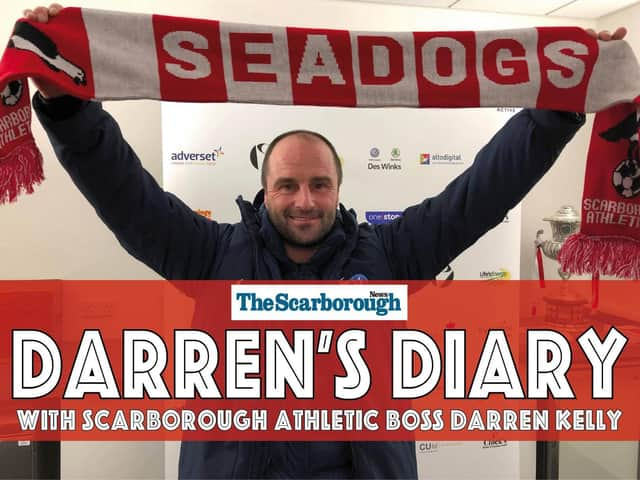 Darren Kelly's column
Looking back at Tuesday night's 3-0 win over Redcar Athletic in the North Riding Cup - it was important to me that we put out a strong team and made our intentions clear.
If I was a supporter paying my money and coming out on a freezing cold night, would I want to see a load of changes made? No.
The supporters have been fantastic and I want to give them something back in the form of some silverware.
It's also great for the players. When you look back on your career, it isn't about how much money you've made, it's all about what you have won and the big games you have played in.
We're now into the semi-finals and I want us to go all the way now and lift the trophy come the end of the season.
It wasn't the prettiest of spectacles on Tuesday night, but we got the job done again, maintained our run of wins at home and progressed in the competition.
It was great to see Jimmy Beadle, Ryan Blott and Max Wright get out there too.
Jimmy is a great bloke and I am delighted to have him back involved with us.
You can see his passion for Scarborough Athletic and I'm looking forward to working with him more going forward.
Blotty is a great guy to have about the place, he knows where the back of the net is and he'll continue to improve as his fitness levels get better and better.
Young Max has really impressed me in training, he keeps improving and is keen to listen and learn.
Saturday's win at Hyde United was a great moment for me personally, but also for the players and fans.
I knew how they'd operate and where they could cause us problems, but I like to worry about us first and then think about the opposition.
The players were absolutely fantastic and were deserving of the three points.
We knew it would be a game that would more than likely be decided by a moment of magic and that came from young Kieran Glynn.
Kieran is a special player and is only going to keep improving too and I am delighted to have finally landed him at the fourth attempt.
We now go into another huge game against Bamber Bridge on Saturday as we look to maintain our run of form at home.
Hopefully the fans come in their numbers and get behind us again as that offers the players a big boost.