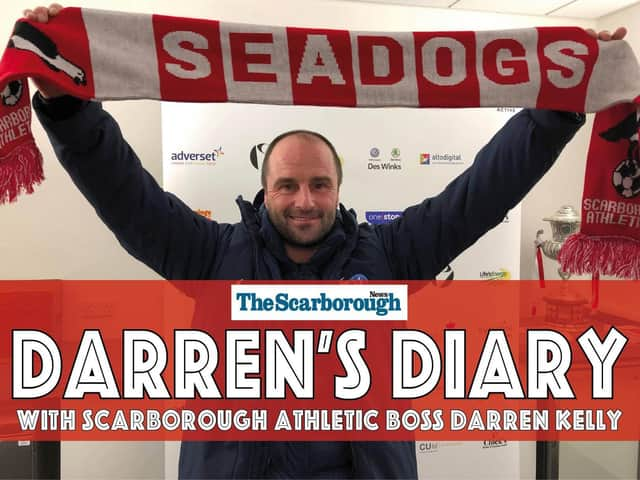 Darren Kelly's column
It would have been very easy for us to struggle after Josh Barrett had to come off injured.
You see a lot of teams fail to cope when you have to have a bit of a re-shuffle, but I thought Harry Spratt was excellent after moving over to the right hand side of the back three.
We controlled the game and fully deserved to win, I was really pleased with the players.
Tom Allan and Harry (Spratt) have made a big difference to the defence.
Tom is a big presence in the defence, he's a big, strong lad and he wins his battles, but he's also good on the ball and can play out of defence.
His contract is up at York City at the end of the season and I would absolutely love to keep him with us, but there's a long time between now and the end of the season and we will have to see what happens.
Another player who I'd love to keep with us next season and beyond is Kieran Glynn.
He's improving all the time and he knows what I think of him and how much I'd love to keep him at Scarborough.
A lot of the work Kieran does goes unnoticed, because he isn't just a good technical player, he'll also do the dirty work, tracking back and putting his tackles in.
I can't put this column out without praising the performance of Michael Coulson.
I genuinely believe Coulo is putting in performances that wouldn't be out of place at League Two level, he's been that good.
It's a huge boost to us to have Coulo in such good form.
I'm a big believer in playing him through the middle where he can influence play.
I have no doubts that he can do a job out wide on the left, but I know he found it frustrating there previously, doing a lot of his work facing his own goal.
We'll need to maintain our performance levels of recent weeks at Ashton United on Saturday as they'll be out for revenge after our win against them the other week.
There were obviously a few flashpoints in the game so they will clearly be looking to put that defeat right.
We've been in good form though and hopefully we can continue that this weekend and pick up another positive result.