DARREN KELLY: Togetherness of everyone associated with Scarborough Athletic has been fantastic to see
Through this tough period, I want to applaud the efforts of those who are pulling together to look after the future of Scarborough Athletic Football Club.
Friday, 27th March 2020, 4:21 pm
Updated
Friday, 27th March 2020, 4:22 pm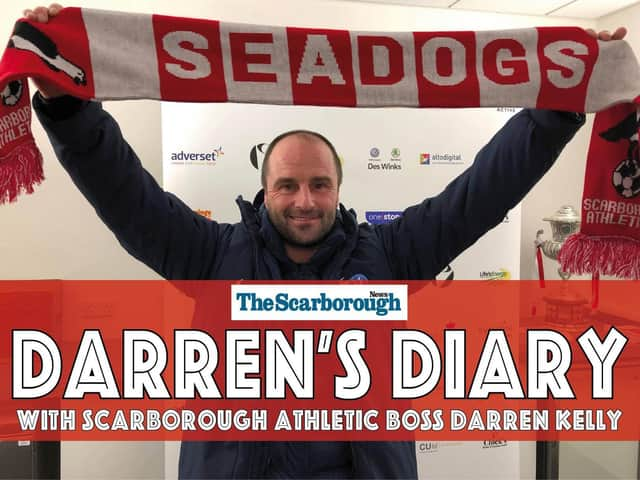 Boro boss Darren Kelly's column
The togetherness of everyone involved has been a true positive in these testing times and I'd like to thank everyone who is doing their bit.
Everyone from the Valley Bar Seadogs, to The Scarborough News and to every single fan who has donated to the cause - thank you.
Moving forward, I will be speaking to the players through this week to catch up with them.
There will be plenty to discuss, from fitness levels to plans for next season - which are already ongoing.
I don't need to check up on the players during this period - I trust them to be professional enough to be doing what they can to keep their fitness levels at an acceptable level.
I did speak with Coulo last week and he's been out and about getting his runs in, and I'd expect nothing less from this group of players.
I saw the NPL statement on Tuesday signalling their intent to terminate the 2019/20 season with immediate effect.
With hindsight this is possibly the right decision given the fact we have no idea how long this virus will be a problem for.
Nobody knows, it could be weeks, months or even longer, so the longer it goes on the harder it becomes to finish the current season.
This said, it's difficult to plan for next season as we don't know how badly hit clubs will be and also when it will start, so it will take time.
I hope the NPL will get some financial support from higher in the game too.
I want to use this down time to get on the phone and get things moving and in place for next season - whenever that may be.
One thing is for certain among all of this, the Flamingo Land Stadium will be buzzing whenever we get the green light to get back into action after all this mess.
People will be itching for games to get back under way and to get down and watch some football.
But society as a whole will appreciate everything a hell of a lot more once we have beaten this virus and can socialise again.
Going to the pub with your mates, taking your partner out to a restaurant, seeing family, all things we can often take for granted, we will all appreciate so much more.
Let's all muck in and help each other through these difficult times and we'll be ready to roll once the new season is announced - whenever that might be.