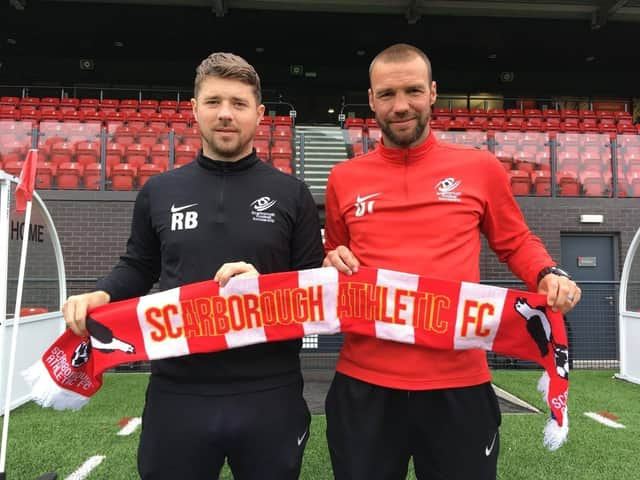 Ryan Blott and Denny Ingram have taken a step back from their roles as joint-managers of the Boro U19s team
Due to an increased workload with Scarborough Football Scholarships, which is expanding its international student intake in conjunction with partners, Coventry University Scarborough, current joint managers Denny Ingram and Ryan Blott are stepping down from their Under-19 roles.
They will still remain involved, but in different capacities, with Ingram taking on the assistant manager job and Blott slotting into a coaching role.
The relationship between Scarborough Football Scholarship and Scarborough Athletic FC is unaffected by this change.
Ingram and Blott have led Boro's Under-19 side for the past two seasons, winning the league and County Cup during their first season as a management duo.
They have also developed a number of players into both Boro'sown first team and non-league football more widely.
Paul Exley will take over the running of the U19 side from next season, with the support from the outgoing duo.
UEFA B Licensed Coach Exley, has most recently managed the Athletic FC Under-16 side in the Junior Premier League last season in addition to his role as Football Development Director.
Exley said "I would like to pay tribute to Denny and Ryan who due to the increased workload in their day jobs, are taking a step back while offering their ongoing support.
"Ryan is also playing for the first team and Denny is still managing the Wednesday scholarship sides. Both have done a good job in developing a playing style and discipline within the squad and it is something I hope to build upon going forward".
"Some products of the Under-19 side have progressed to the first team, and we aim to keep this trend moving forward.
"We want to attract the best local players with the intention of developing and providing home-grown talent for the first team manager to utilise".
Ingram added, "I have thoroughly enjoyed my time as manager with Ryan, however a number of commitments, including undertaking my UEFA B Coaching License and the bigger projects with the Scholarships means I will have less time available to commit to the Manager's role.
"Both myself and Ryan will still be available to help Paul and the Club when required and we have already agreed that Paul will attend our Wednesday fixtures on a regular basis to maintain a strong link".
A range of trials and fixtures will take place for the Under-19 side for next season, when it is safe for football to resume.
Full details will be published on the official website and across the club's social media when appropriate.
Boro are seeking to add to the existing group of coaches within the junior set-up for the new season.
Athletic are looking for both experienced lead coaches and aspiring assistant coaches to support the development of the junior sides ranging from Under-Sevens to Under-16s.
All coaches must have a valid Criminal Record Check (DBS/CRC), Safeguarding Children, FA Emergency Aid and minimum FA Level 1 in Coaching Football.
With no date for the new season, plans are moving forward to make Filey Community Sports Club safe for players, coaches and fellow volunteers for when training can begin and in turn support our existing core of volunteers and the development of young players.
Boro are keen to hear from interested qualified coaches to join our team of volunteers.