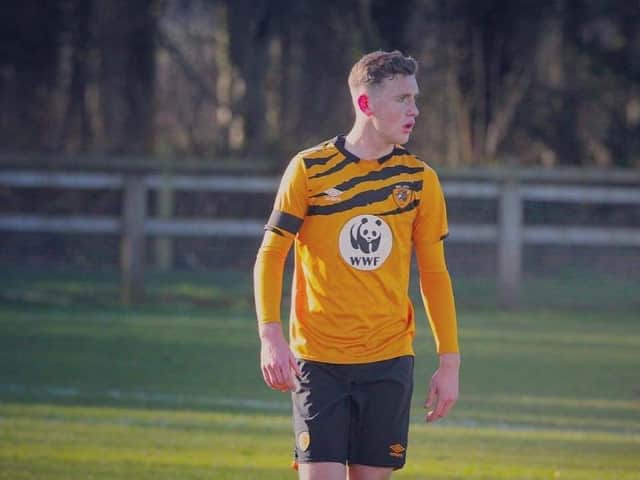 Louis Beckett of Hull City.
Beckett, who moved up from the Tigers' Under-18s to the Under-23s teams during the 2020-21 campaign, sent his former club's chairman Chris Kirkham a message to let him know he had signed his first pro deal.
The message from the 18-year-old midfield player read: "Hi Chris, just to let you know I have signed my first professional contract this morning.
"Can't thank you enough from my time at Jackdaws and help me get on the path I am on now.
"Thank you so much and hope you are well. Louis."
Kirkham said: " Louis Beckett began life as a Burlington Jackdaw playing in a team that developed into a great side.
"He went off to Hull City at an early age and has now become our very first 'Professional Footballer' signing for Hull City.
"Hundreds of players have played at our club over time, we have ensured now with the new pathway we have in place that they will all go on to play adult football.
"Our goal is to continue to develop and not win at all costs, for the future.
"To receive this message last week from Louis brought an emotion to me as a chairman as I shared the news with his former coaches, that our dream has now become a reality."
Scarborough-born Beckett has also been recognised for his achievements on and off the pitch by the League Football Education.
The Hull City academy player has been included in 'The 11', which acknowledges the football and academic progress of Under-18 players on apprenticeships at current or former EFL clubs.
The accolade also assesses other factors, including involvement in community or charity-based initiatives.
The LFE explains: "Louis has played consistently well for Hull City's Under-18s and Under-23s over the past couple of months, covering a vast amount of ground as a box-to-box midfielder and filling in admirably as a right-back.
"In the classroom, he is meeting his BTEC target grades and has made terrific progress on the SEP qualification, producing his portfolio of evidence and recently passing through gateway."
Head of Education Dean Jennings told LFE: "Louis' performances for the Under-18s have been outstanding, and he has replicated these performances for the Under-23s, even when being asked to play out of his natural position.
"Even with his playing commitments, Louis has managed to complete his BTEC work to the level we expect.
"He is due to undertake his professional interview and practical assessments for SEP in the coming weeks – his preparation for these has been excellent."
The then Burlington School pupil Beckett signed for Hull City back in May 2011 as an eight-year-old after impressing the Tigers' junior scouts with his performances for Jackdaws Under-Eights during the 2010-11 campaign.