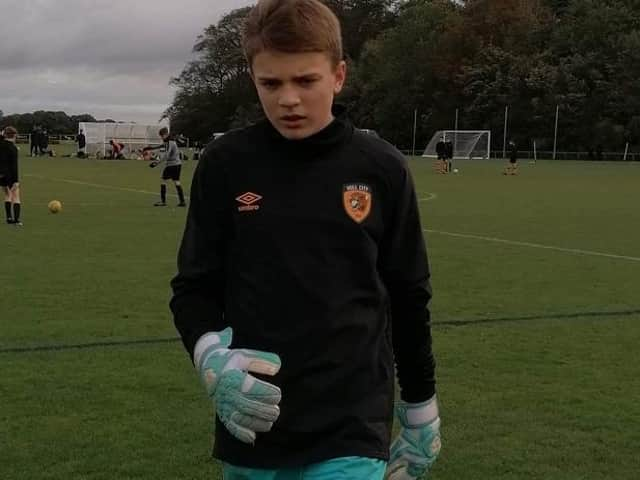 Former Burlington Jackdaws goalkeeper Kornel Miscuir is eager to continue his development at the League One promotion-chasers
Year Nine Headlands School student Kornel first attended Bridlington Soccer School at the age of five and quickly developed into a keeper and attended extra keeper sessions.
Kornel and his father's height was something that would stand him in good stead as after a few years of representing Burlington Jackdaws he was offered a trial and signed up by League One side Hull City.
His ability grew and he is a firm favourite with the Academy team.
After the first lockdown with Academies still closed, he would test himself and train with the Jackdaws Under-16s and kept himself busy with one-on-one training with Gavin Kelly.
Kornel's dad Lukasz Miscuir said: "After a long break of five months, Kornel eventually returned to training.
"Training started with one meeting a week with a group of five.
"Every week one training session was added until they returned to normal training mode, four training sessions a week plus one match.
"Before each training or match, parents had to fill in a form that has questions about mental health and well-being.
"This application was also used by the first team during the first lockdown.
"The matches played at the moment are in a specific circle.
"We do not play matches with teams such as Manchester United, Liverpool or Newcastle United, but we play several matches with the same team, for example, Sheffield Wednesday or Sheffield United, Nottingham Forest and Leeds United.
"For two weeks, more restrictions have been introduced, a ban on watching training sessions and matches by parents, everything related to the greater number of people infected with the virus in our region.
"Kornel is training hard, and thanks to this he plays as the number one in the Under-14 group.
"He has also been recognised by his native country as the Polish embassy gave him an award recently."
Jackdaws chairman Chris Kirkham is also full of pride at the teenager's achievements.
He added: "Kornel is a proud Jackdaw and always comes down to matches when he doesn't have one and encourages the keepers we have.
"He will always stop for a chat and let you know how he is getting on and his progress when you see him passing by."