Former Newcastle United youngster Mackenzie Heaney feels at home in a Whitby Town shirt
Whitby Town midfielder Mackenzie Heaney joined the club in the summer of 2020 and brought great excitement to supporters after the positive words said about him
Thursday, 11th March 2021, 9:05 am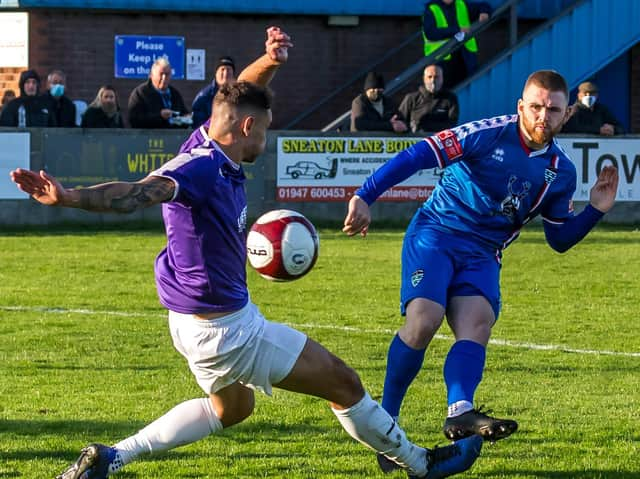 Mackenzie Heaney gets a shot away for Whitby Town
Heaney showed what he is capable of in the 4-0 pre-season victory over Guisborough Town in August where he scored a superb free-kick into the top corner, something which he had produced on a regular basis during his days in the Newcastle United youth setup.
Despite not registering a goal since then, he feels that his first taste of the PitchingIn Northern Premier League (NPL) has been good enough for his liking and hopes that next season can produce his best form.
Heaney had struggled personally since his release from Newcastle's academy but now feels that he is enjoying his football again in a Blues' shirt.
"It was a slow start for me at Whitby," Heaney explained. "When I started playing more regularly I felt that I was starting to get back to my best.
"I still feel that I've got a way to go so I'm gutted about the league being stopped because I was starting to find my feet.
"I was doing ok but there's still a lot more I can give and I'm confidence I will give that when we're back."
As a creative midfielder, Heaney has had great responsibility placed upon his shoulders initially under form Seasiders boss Chris Hardy, and now joint-duo of Nathan Haslam and Lee Bullock.
Supporters were given a glimpse of his quality over a dead ball in the opening day league victory at Witton Albion where he caused the Cheshire side endless problems with his set-piece deliveries.
This pressure is something that the attacking midfielder thrives off and he hopes that as his Town career progresses, he can become even more instrumental in the centre of the park.
"Set-pieces are one of my strong points," Heaney added. "I feel that I do bring that creativity to the midfield and I link the team from the back to the front which is the role I like.
"Under Nathan and Bully I have been playing on the right but that's just due to formation but hopefully when we get back playing and formations chop and change a bit, which Nathan said it will, we'll see where I end up.
"I would personally prefer to be in a creative role deeper in the midfield."
After just short of a year with the Blues, Heaney's spell at the club has been disruptive given the difficulties faced by the club and also the recent annulment of the 2020/21 season due to the pandemic.
This has been greatly frustrating for the 22-year-old, however he is hopeful that as the national situation improves he and his teammates can look forward to what he hopes will be a campaign to remember given the quality in the squad.
"When I signed for the club I said that there is no reason why we can't try and win everything," said Heaney.
"We've got a really, really good squad all the way from the goalkeeper to the forwards.
"We're strong in every position and the good thing is that the gaffer's have got a headache because people on the bench feel that they should be starting which is hard for them but it shows we've got that depth in the team as well.
"Even when we have two games a week, we can change things around so I think we really can push on next season."
Whitby Town have provided Heaney with a great chance to re-ignite his career and he is hugely grateful for the opportunity given to him to play in the upper reaches of non-league football.
Heaney added: "It's a good level to play at. The main issue I've found is some of the pitches as I like to get the ball down but when the pitch isn't good it does take away from my game but I can't use that as an excuse. In general, this level of football is good and I feel that I can develop and get playing regularly."