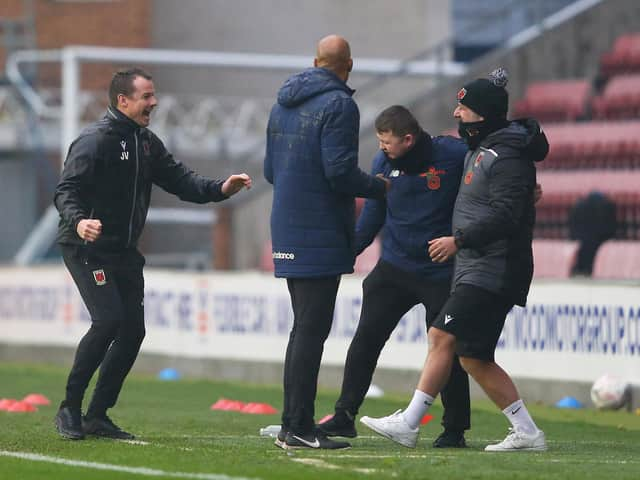 Former Scarborough FC player Jamie Vermiglio feels his Chorley side's cup exploits have inspired the country.
The Magpies run to the fourth round of the competition has come at an unprecedented time in modern history with the world engulfed by the Covid-19 and its devastating consequences.
Every one of their six games in the competition has unfortunately been played behind closed doors.
As Vermiglio has mentioned on several occasions, their away wins over 2013 winners Wigan Athletic and League One high-flyers Peterborough United in the opening two rounds followed by the home victory over Derby County would have resulted in a mass pitch invasion from their supporters.
And Victory Park would have been packed to the rafters on Friday night to watch the non-league part-timers take on the might of Premier League Wolves.
Unfortunately, the Magpies could not extend their fairy tale run as they exited the competition to Nuno Espirito Santo's men narrowly thanks to a 12th minute wonder goal from Vitor Ferreira.
But their performance earned the admiration of everybody watching as they pushed the top flight side, whose starting XI boasted more than 250 international caps between them, all the way.
In truth, the home side were the better team in the second half and John Ruddy had to be alert to repel headers from Connor Hall and Andy Halls.
While disappointed the FA Cup dream has ended, Vermiglio believes his side's performances have been a huge positive for ordinary people at such a difficult time.
As a headteacher of a primary school in Warrington, he has seen first-hand how the run has captured the hearts of his pupils and the same could be said of children in Chorley and beyond.
"The great thing about this is we have touched many different people - it's not just the people of Chorley or the players and their families," Vermiglio said.
"We have been contacted by people from much further afield, people in many different countries.
"We are living in such difficult times with not that much to look forward to.
"When you see people on the television who you know or you can associate with, I think it's brought a lot of people together.
"It has been wonderful this run for the kids at my school and other kids up and down the country.
"They have seen these players who have got jobs but have given themselves this opportunity.
"The kids at my school in particular, they have been really inspired.
"I think if we weren't going through Covid and the children wouldn't be stuck at home, they would be going to their own football training or gymnastics or dance classes on Friday or a Saturday and would probably be missing the games.
"They have not got a lot to do and I know a lot of them have been tuning in to the games.
"They have seen me doing interviews and have been doing their own interviews and writing their own newspaper articles."
Former Scarborough midfielder Nathan Jones, now manager of Luton Town, felt he got things slightly wrong tactically early on at Stamford Bridge on Sunday.
Jones felt the FA Cup 3-1 defeat at the hands of Premier League Chelsea was yet another learning curve for both himself and his players.
The hosts, on a bad run of form in the league, showed they meant business from the start, manager Frank Lampard selecting a team worth almost £250m of talent, while three England internationals Mason Mount, Tammy Abraham and Reece James all started.
The extra class came shining through early on, Abraham scoring twice as the Blues led 2-0 inside 20 minutes, as Jones admitted he didn't get his system quite right for the tie.
Once he altered things though, Jordan Clark make it 2-1 with half an hour gone, and had Harry Cornick levelled the scores in the second period, it might have been a different game, only for Abraham to complete his hat-trick with 15 minutes to go.
Jones said: "We gave ourselves a mountain to climb and I accept a little bit of responsibility for that as I wanted to be bold in terms of our shape, in terms of what we did, so we could get a little bit more possession in the game as I didn't just want to defend.
"Maybe we got things tactically wrong, or not quite there in the first 15 minutes, but after we made the change, I thought we were excellent throughout.
"We were disciplined, we had a goal threat, we scored, could have scored on the edge of half time, but we're playing against a wonderful side here who overall deserved to win.
"It's a great test for us so I'm very proud of the group for that and it's a learning curve for all of us.
"A learning curve for me as a manager, learning curve for the players, but this week will give us great belief ironically as we only won one in the three games, but as a Championship team, it was probably the hardest week you can have near enough.
"Going away to Bournemouth, away to Brentford, away to Chelsea and in all three games we've been good.
"We were excellent at Bournemouth, we were excellent for 60-65 minutes against Brentford, we just couldn't quite get the goal and today we've shown we have no fear of a top for Champions League team.
"They're a fantastic side and congratulations to Frank for the win, but they're a wonderful side with some outstanding players and we can't compete at this level at this point."
Another ex-Scarborough FC player, defender Neil Thompson, wants his Sheffield Wednesday side to be positive in their fight against Championship relegation.
The Owls were just that in their FA Cup fourth-round tie at Everton and although they lost 3-0, there were things to be proud of in defeat. "At the end of the day we're in a position in the Championship where we've got to win games so we have to try and be positive," said caretaker-manager Thompson.
"It's very difficult against a Premier League side who have got so much quality with the ball and without it.
"I thought we showed real intent when we had the transition. I thought Adam Reach did particularly well getting in pockets and we passed the ball well.
"We need to win games so we have to score goals and create chances. We can't wait for us not to lose, we've got to try and win it and I'm sure whoever's in charge, that will be the remit."
As someone whose background is in the academy, it was no surprise Thompson called on the youngsters pressed into action by illness and injury to learn from the experience.
"When you look against the quality they've got and the rotation and movement in midfield and the interchange up front you've got to have eyes in the back of your head against Premier League players so for Ciaran (Brennan), Osaze (Urhoghide), Ryan (Galvin), Julian (Borner) and Kads (Kadeem Harris) it's an education."