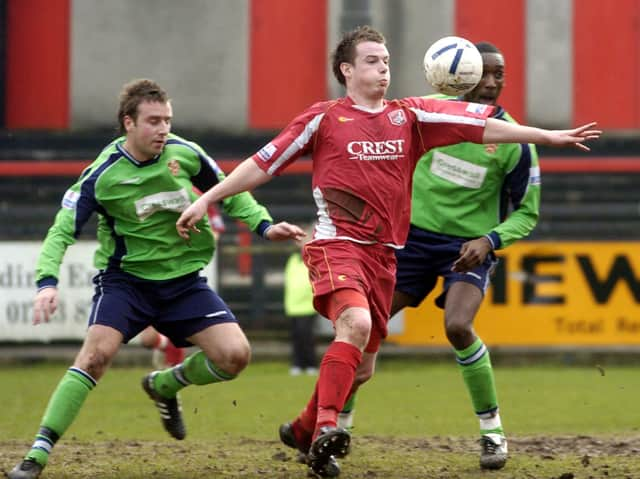 Jamie Vermiglio in action for Scarborough FC.
But it appears the legendary former England and Manchester United striker is unlikely to take charge of Derby County's FA Cup tie against the Magpies.
The ex-Everton ace is currently the caretaker boss of the Rams, who are scheduled to head to Lancashire to face Chorley on Saturday in the third round of the competition– a match which will be broadcast live on BTSport, kick-off 12.15pm.
However, a cloud is hanging over the tie after County announced this week that there had been a Covid-19 outbreak within their squad.
The identity of those who have tested positive – and the scale of the outbreak – is officially unknown.
But reports from the Midlands are emerging that it is Rooney and the entire Derby first-team squad who are affected by the outbreak.
The match is set to go ahead but it appears Derby will field a team made up of players from their Under-23s and Under 18s squad, with coaches Pat Lyons and Gary Bowyer and academy director Darren Wassall in line to take charge.
It is believed Rooney and his players along with his backroom team are self-isolating and will not risk the trip north this weekend.
And Chorley boss Jamie Vermiglio admitted it would be a huge shame if his men were not able to face a full-strength Derby team with rooney in the dug-out.
Vermiglio said: "There's a big build isn't there?
"There's a big build-up about it being Wayne Rooney's side and he's obviously the person there who is in the limelight. He is an absolute legend of the game with what he's done for England and Manchester United.
"I think from a personal point of view, the players and the fans – you want to see Wayne Rooney walk into Victory Park.
"You want to see what his experiences are when he walks into our changing room at Victory Park. You want to be able to shake his hand or elbow-touch him, whatever you have to do these days."
"Even though it will probably put us at a disadvantage if Rooney is in and around the squad or here, it will give the occasion a little bit more merit and something that it deserves.
"The last thing we want is to be playing against an Under-18s side, with the greatest respect to them.
"It's our chance to shine against good players, who have played in the Premier League and Championship.
"There's a lot of international experience through the side and we wanted that opportunity, we wanted that challenge.
"Whether it would have been harder for us or not. For Wayne Rooney to come would be the pinnacle for us."